Winner Update: Golden Child's Tag, Jaehyun Want To Be Like Their Sunbaes, 'EVERYD4Y' Hitmaker Not Planning To Replace Big Bang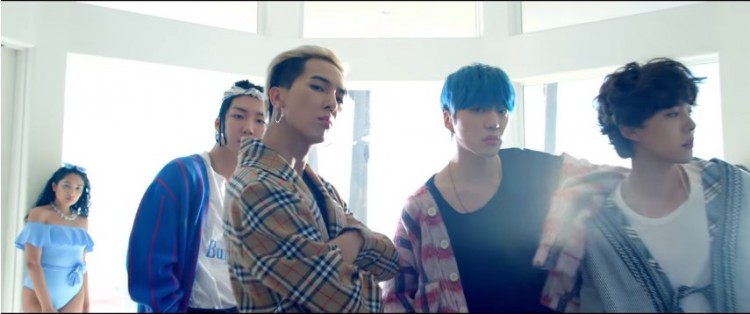 Winner recently released their new album, EVERYD4Y, and the group talked about how they wanted to grow as a K-pop boy band. As the boys are now evidently enjoying their success, Golden Child's Tag and Jaehyun are wishing to become just like them.
Golden Child and Winner both appeared at the recent Naver's V-Live. As soon as the show finished, the sunbaes prepared signed albums to give to the artists that graced the event. When Tag and Jaehyun received their own copies, they rushed to their dressing room and signed their own CDs to give to them.
The Golden Child members were surprised with Winner's good deed. "They waited to hand them out to everyone," they said, per All Kpop. Tag and Jaehyun were grateful for the group and said it was such an honor to have their CD. Their favorite songs on the album are "Everyday," "Air," and "La La."
Meanwhile, talking about their success, Winner wants to take things easily, be matured musically, and show their growth and development. In an interview, via NST, the group's leader Seungyoon said it is important for a group to "slowly expand their territory" and mature their music.
He even cited Big Bang as an example as the group didn't stay in just one place and grow. Winner wants to be just like them. "Our goal is to show growth," he said. Mino, on the other hand, revealed they don't want to fill the void G-Dragon, T.O.P, Taeyang, Daesung, and Seungri left since the group is now on hiatus.
So, instead of competing, the group actually wants to boost YG Entertainment family's "good energy." As iKON and Big Bang succeeded, so will they. In fact, when their song "Really Really" became a hit, iKON congratulated them. They, too, are happy that iKON is thriving.
Meanwhile, Winner also wanted to communicate with their fans while working on their new album, EVERYD4Y. As a matter of fact, they revealed they are now working on fan meetings and concerts for their followers. With that, they believe they will now have more time to meet all of their supporters aside from promoting their latest LP. From here, they know they can make them happy.
© 2019 Korea Portal, All rights reserved. Do not reproduce without permission.