SHINee And K-Pop Fans Pay Tribute To Late Idol Jonghyun On His Birthday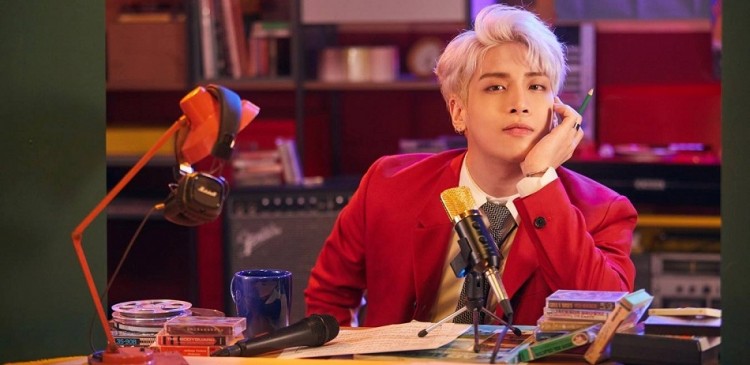 K-pop group SHINee paid a tribute to their late member and friend Jonghyun on his 28th birthday. Fans also remember Jonghyun on his first birthday since the idol passed away in December 2017.
In SHINee's official social media accounts, the group shared a photo of Jonghyun during one of the band's concerts. The singer can be seen sitting onstage while their fans can be seen in the background. SHINee member Key also paid a separate tribute to his friend on his Instagram account. He shared a selfie of him and Jonghyun and expressed how much he misses his friend in the caption.
SHINee's fans all over the world also took to social media sites to post loving messages, photos, and video clips of the singer with the hashtag #HappyJonghyunDay in his memory. The birthday greetings for Jonghyun have been trending worldwide.
Remembering SHINee's Jonghyun
Jonghyun died on December 18, 2017 in an apparent suicide. Reports indicate that he took his own life. It was later revealed that he had been suffering from depression. Jonghyun's funeral was attended by SHINee members, other K-pop artists including Girls' Generation and Super Junior, and tens of thousands of fans.
In February, the band returned on stage as a four-member group. SHINee vowed to continue performing with Jonghyun in their thoughts. During their Japan tour, each member talked about their comeback and the loss of one of its members.
"The memories of my time with Jonghyun are precious to me. He's like family to me, so I will never forget him and I will always keep him in my heart. From now on, I will try to be a stronger Taemin, and we will try to be a stronger SHINee," Taemin said.
Earlier this year, Jonghyun's final album, Poet | Artist, was released posthumously. On March 26, SHINee also dropped their Japanese single "From Now on," their first track following Jonghyun' death. The song posthumously features Jonghyun.The K-pop singer had released one studio album, She Is, prior to his death. Most of the nine songs in the album were written and composed by Jonghyun himself.
Meanwhile, SHINee's Taemin is set to appear in the upcoming 2018 Dream Concert next month along with other K-pop artists. The Dream Concert is one of the biggest events of K-pop. It began in 1995. Aside from Taemin, this year's event will have Red Velvet, SEVENTEEN, NCT, MAMAMOO, The Boyz, and more.
The 2018 Dream Concert is set to take place on May 12 at the Seoul World Cup Stadium. Tickets for the event will go on sale starting on April 12.
© 2023 Korea Portal, All rights reserved. Do not reproduce without permission.