Eating Sannakji In South Korea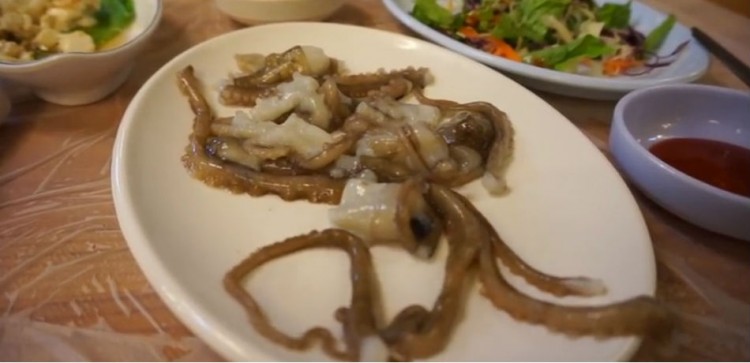 Traditionally, Kendo warriors used to eat Sannakji (or San-nakji) to achieve physical strength. Other cultures may interpret consuming Sannakji as a strange culinary tradition, but it is a flourishing South Korean dish that is liked by many.
How is Sannakji served to the customers?
Sannakji comes under the list of Hoe, which means raw food dishes in Korean cuisine. It is a dish with live octopus, which can either be eaten whole or rolled with chopsticks. The octopus is only served with a bowl of sesame one, otherwise, it will stick in the throat. Other ingredients may be a bowl of mixed chili paste, vinegar, and sugar as dipping sauces.
The dish is always an eye-catcher and one of the most favorite dishes among the Koreans. They love to eat octopus in various ways - stir-fried, braised, and stewed. Whereas eating it raw is also a popular choice.
Many wonder if the octopus is still alive upon seeing the tentacles moving on the plate. By the time Sannakji is served on the table, it is already dead. Its tentacles continue to move because of the dead octopus' continuing nerve activity.
Koreans eat Sannakji by using chopsticks
The trend is to eat Sannakji by using chopsticks. Since the tentacles continue to move on the plate, one has to hold it tight with the chopsticks. The very fresh octopus can sometimes even continue moving in the throat.
Sannakji is a very chewy food as cooking is avoided. It is served raw by simply making into pieces. Since it is alive until just a few minutes before being served, the customers hardly get a strong odor from it.
In some regions in South Korea and other nations, Sannakji is served whole. Many people also love eating the whole octopus. However, it is generally considered dangerous to eat unsliced octopus. One could start choking anytime. Many South Koreans offer this dish to the foreigners for an exciting experience.
© 2023 Korea Portal, All rights reserved. Do not reproduce without permission.