Super Junior Members Reveal Female Crushes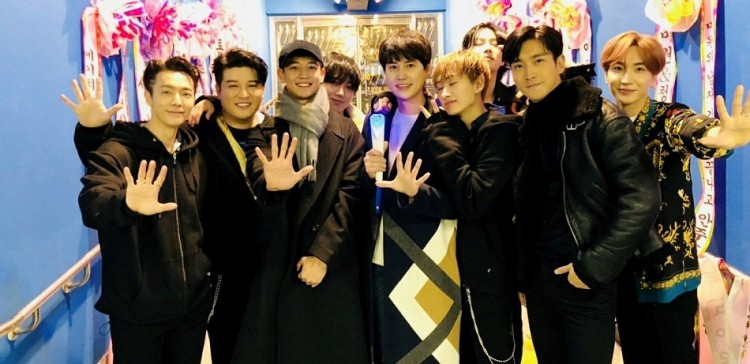 The Super Junior members have revealed not only their celebrity crushes but also who they wish to get married to. Surprisingly, not all of them named Korean celebrities. Some of them have foreign celebrities in mind.
The four members of the South Korean boy band appeared in recent episode of XtvN's Super TV. They talked about who are the ideal girls for them. Eunhyuk first said he likes Yano Shiho as she seems to be nice as a wife and a mother. Yano is a Japanese model who is married to Japanese-Korean mixed martial artist Yoshihiro Akiyama.
Donghae named Hollywood actress Rachel McAdams as his ideal type. McAdams is a Canadian actress who famously appeared in several blockbuster films in the U.S. She famously starred in romantic movies The Notebook and The Vow. She also appeared in Spotlight and Marvel's Doctor Strange.
Heechul prefers a more traditional looking woman. He said he likes women who don't have double eyelids like Mina of Gugudan's Mina. Heechul previously admitted that he has a crush on Korean singer/actress Kang Min Kyung. She is a member of K-pop band Davichi. Heechul previously appeared in the international version of We Got Married and was paired with Puff Guo of Taiwanese girl group Dream Girls.
As for Leeteuk, he admitted that he is seriously considering getting married as he is already 34 years old. He then revealed that he liked an announcer-type lady and named Korean actress Lee Bo Young. Lee has been known for starring in several K-dramas including My Daughter Seo-young in 2012, I Can Hear Your Voice in 2013, and most recently in Whisper. Leeteuk appeared in We Got Married in 2012 and was paired with Korean actress Kang Sora.
Super Junior Members' Ideal Girl
So far, only one member of the boy band is married - Sungmin. He and musical actress Kim Sa Eun tied the knot in December 2014. Sungmin's ideal girl should be shorter than him, cute, nice person, and sings well. He is basically describing his wife.
As for the other members of the group, they basically have different traits that they like about their ideal woman. Eunhyuk's type is a lady that is pretty, sweet, fair-skinned and has pretty eyes. He also likes girls with curly hair. Donghae's ideal woman, on the other hand, should have a nice forehead, silky hair, and big eyes. Donghae also likes a motherly-figure girl, someone who can make seaweed soup for him.
Heechul's ideal girl is someone who can cook. He loves a girl who wears a skirt and has nice legs and a girl who always tie her hair to show her neck. Leeteuk dream girl is polite, loyal, friendly, understanding, and wise. Physically, he wants her to be pretty and slender.
Yesung's ideal type is someone like Autumn in My Heart actress Moon Geun Young. He wants a lady who has sparkling eyes and a warmhearted person. The ideal girl for Kangin is someone who has pretty feet, rich, long straight hair, and smart. For Shindong, his ideal woman is cute, petite, and someone who can play drums.
Ryeowook wants his girl to be Christian with wavy hair and looks good in jeans. She should also know how to sing. Like Ryeowook, Siwon also wants her girl to be a Christian. He also loves a girl who is funny, who doesn't smoke, tall, and has abs. Kyuhyun likes a pretty short-haired girl with long legs and a Christian. Zhoumi's ideal lady is a beautiful, nice, and down-to-earth person.
© 2023 Korea Portal, All rights reserved. Do not reproduce without permission.