'Game of Thrones' Season 8 Theories: The Night King Might Resurrect Cersei To Become The Night Queen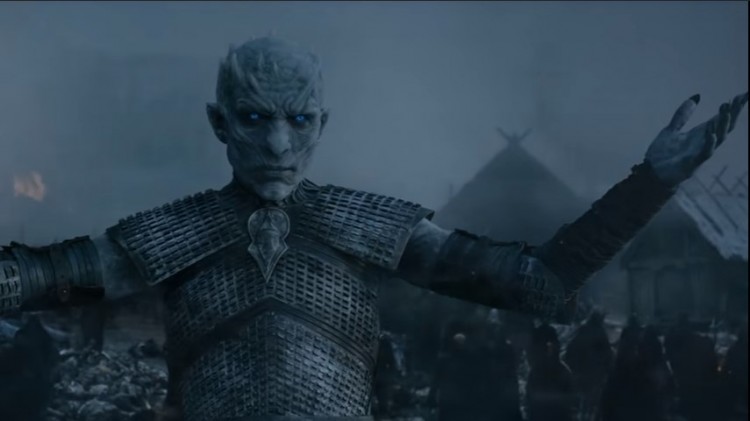 Game of Thrones Season 8 is surrounded by a lot of assumptions about how the life of the rest of the fan-favorite characters will end. Now, the theory mill reveals the possible way the Night King (Vladimir Furdik) plans to attack and conquer Westeros.
An avid fan shared his theory on Reddit, assuming that the White Walkers' leader will deceive everyone on the North to have his way to King's Landing and face Cersei Lannister (Lena Headey). People from the north will be very busy engaging in a fight with the undead army, not noticing that the Wight's master is not there.
As everyone is distracted, the Night King along with the revived Viserion will be making his way to King's Landing in Game of Thrones Season 8. There are assumptions that he will be destroying the capital of the Seven Kingdoms and killing every person alive.
It is also a trap to Euron Greyjoy (Pilou Asbæk) and the Golden Company as they will be welcomed by the White King and his army. Apparently, they, too, will be killed and resurrected to join the undead.
To recall, in Game of Thrones Season 7, Jon Snow (Kit Harington) was hoping to form a truce with Cersei to have her men and help him to fight the Great War. However, although Tyrion Lannister (Peter Dinklage) seemed to convince his sister, it looked like the Queen of Seven Kingdoms will not let his people join the battle.
So, there is also a big possibility that the Cersei will be facing the Night King and will be becoming the Night Queen. Game of Thrones Season 8 theories revealed that she will die during the attack and she will be resurrected to become a Wight.
Cersei will be joining the Great War as an undead and will be facing Jon Snow. However, to fulfill Maggy the Frog's prophecy, she will be killed by her brother and lover, Jamie Lannister (Nikolaj Coster-Waldau).
Fans should only take these assumptions with a grain of salt as they still have to wait until 2019 to finally see what will happen in Game of Thrones Season 8 when it returns on HBO.
© 2019 Korea Portal, All rights reserved. Do not reproduce without permission.