'NCIS' Season 15 Cancellation Rumors: Mark Harmon, Maria Bello And Emily Wickersham Rumored To Follow Pauley Perrette's Exit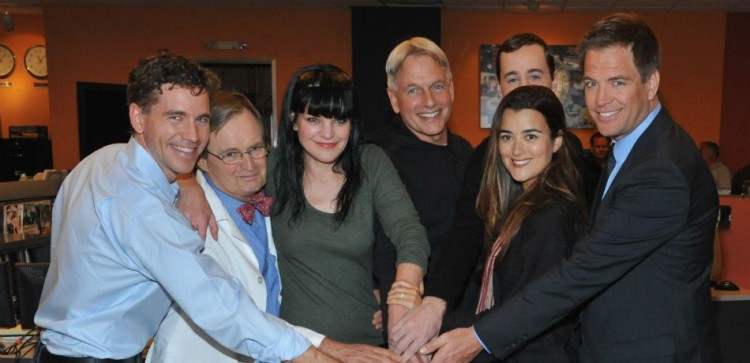 There is no doubt that NCIS Season 15 is among the most watched show today. As a matter of fact, the American military police procedural drama has an average of 14 million viewers per episode. Despite this, new reports suggest that the Mark Harmon-led series could possibly face cancellation after 16 years.
Primadonna shared there are rumors swirling online that Mark Harmon could possibly leave the show due to his alleged frail health. It even cited a report from Radar Online claiming that the veteran actor might not be able to do action scenes anymore because of his complicated status. An unnamed insider even told the news outlet that the NCIS Season 15 has become so lethargic lately, which is sort of unusual for someone who has been very active during his younger years.
Aside from Mark Harmon, there are also rumors spreading that Maria Bello and Emily Wickersham might follow the departure of Pauley Perrette from NCIS Season 15.The Inquisitr shared that agent Jack Sloane could possibly bid farewell soon after she was found bleeding following a massive explosion. Agent Elli Bishop, on the other hand, is reportedly in danger as she would be captured by a new big bad in the upcoming new episode, CarterMatt shared.
Because of this, devoted followers of the CBS series cannot help but speculate that the story of Maria Bello and Emily Wickersham's characters in NCIS Season 15 might end very soon. It also made others speculate that, if more main characters would be killed off this season, this could possibly be a hint that the series would not be renewed anymore. Though these speculations are not impossible to happen, it is important to note that CBS has yet to confirm or deny these claims.
Meanwhile, avid viewers of NCIS Season 15 should watch out for the reunion of Mark Harmon and Drew Carey in the forthcoming new episodes. Spoilers suggest that agent Leroy Jethro Gibbs would try to help Marine Sergeant John Ross after the latter got persecuted for a crime he did not commit. The NCIS team would also be working with a criminal to catch the series' new big bad, Gabriel Hicks (Graham Hamilton).
Catch Episode 15 on Tuesday, Feb. 27, 2018, at 8 p.m. on CBS. Stay tuned for the latest spoilers, news, and updates about NCIS Season 15!
© 2019 Korea Portal, All rights reserved. Do not reproduce without permission.