'Dragon Ball FighterZ' Trailer Has Several Manga And Anime References For Gotenks [VIDEO]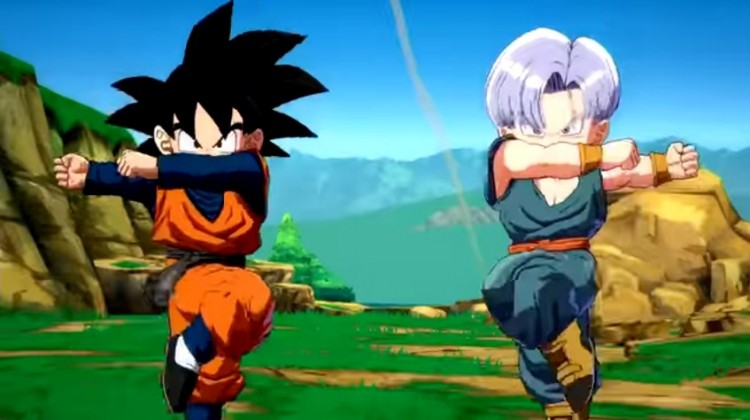 The recently rolled out trailer for "Dragon Ball FighterZ" that introduced Gotenks as a playable character alluded more references to the anime and manga than some "DBFZ" fans might have been able to pick up on initially. In fact, the new trailer is brimming with anime, manga references.
A myriad of games including "Dragon Ball FighterZ" are expected to pay tribute to the source material using references and exact names of intricate onslaughts such as Super Ghost Kamikaze Attack of Gotenks. The aforesaid trailer comprised striking resemblance to the characters' mannerism and poses.
They are not mere recreations of the distinct poses such as the concluding sequence of the fusion dance, but these are shorter, detailed scenes that make them look like they have directly been copy-pasted from the popular animation style originating in Japan, manga straight into the game. This has been proved in newest "Dragon Ball FighterZ" trailer.
Aside from the Super Ghost Kamikaze Attack, the Gotenks reveal trailer for "DBFZ" suggest the young fusion fighter will have rest of his distinctive, strange attacks including Galactic Donut and the Cosmic Halos Charging Ultra Buu Buu Volleyball attack. This revelation comes from PlayStationLifestyle.
YouTuber IKevinX posted Gotenks reveal trailer showcasing manga and anime reference to his YouTube channel on Tuesday, November 21. The trailer gives those who have restlessly been waiting for the arrival of Bandai Namco's upcoming 2.5D fighting game a peek at the striking resemblance between the game and Gotenks earlier versions.
Gotenks signature spinning kick attack was eye-catching in the trailer, while his Daikaiten Kick, where he spins ferociously towards the opponent and finishes with a powerful kick was noteworthy as well. The move looks quite futile, and Gotenks only uses it to show off his fighting style, which packs an array of jaw-dropping attacks, Comicbook reported.
Furthermore, the trailer highlights finer details including the identity of all ghosts in Gotenks' Super Ghost Kamikaze Attack. Each one had a unique pose and look in the anime and manga, all of which are accounted for every time Gotenks adopts the attack.
Of course, it wasn't possible to breathe new life into every aspect of the trailer to make it look exactly how it was shown in the anime and manga. For instance, Gotenks' Galactic Donut move, that starts like it should but doesn't quite compete with the flow. Although Gotenks makes the ring above his head using one finger, another ring makes an appearance rather than the original ring moving and stiffening around the opponent.
© 2018 Korea Portal, All rights reserved. Do not reproduce without permission.