Challenge Accepted: Block B Danced "HER" Twice Faster on 'Weekly Idol' [VIDEO]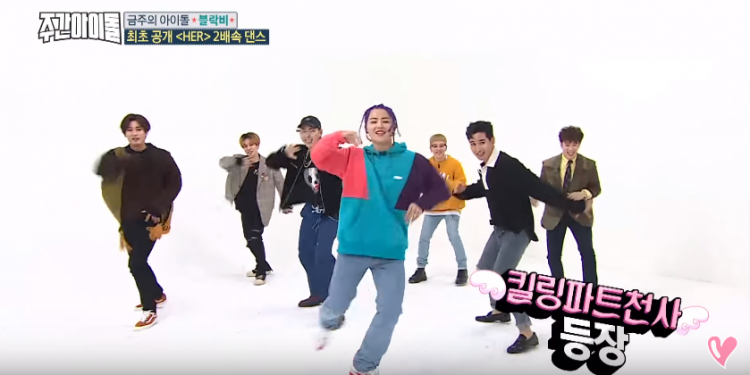 Block B jumped on the tune of "H.E.R." two times faster on the November 22 broadcast of MBC Every1's "Weekly Idol". The vivacious boy group danced gracefully at a much quicker pace and beats to show the world how it's done.
The septet danced twice as fast to their track "H.E.R." for the first time. Their performance was breathtaking and entertaining as Zico rapped twice the speed.
Block B is a product of Cho PD consisting of seven high-spirited male performers: Taeil, B-Bomb, Jaehyo, U-Kwon, Park Kyung, P.O., and Zico. The idol group officially debuted on April 13, 2011, with their music video "Freeze". The video garnered popularity as the Commissioner of Youth Protection banned the MV due to daring content.
The white backdrop defined the movements of Block B as they recreate the dance moves of "H.E.R" in a faster rate. The members had fun and enjoyed the number with snappy steps and smiles on their faces.
On April 10, 2014, Block B landed on their own reality show, "Five Minutes Before Chaos". The group continues to roll out their edgy and dynamic hip-hop brand with the track "H.E.R." dropped with an accompanying MV on July 24. The track grabbed the number three spot on the "Gaon Digital Singles Chart".
According to Billboard, the septet released their sixth mini-album, "Montage", on November 7 after their success in the single "Yesterday" last February. The Korean version of "My Zone" and the title song, "Shall We Dance" are included in the album.
The group received the"Idol Icon Award" from "Maxim K-Model Awards" this year. They are also nominated for the "Bonsang Award" and "Mobile Popularity Award" on the 26th Seoul Music Awards. Block B will also hit the road on January 27 and 28, 2018 to hold two back-to-back concerts in the 11,000 seat Jamsil Arena in Seoul.
© 2023 Korea Portal, All rights reserved. Do not reproduce without permission.