Almost Kiss Spotted: Crowd Swoons for Jay Park and AOA's Hyejeong on the Final Episode of 'SNL Korea 9'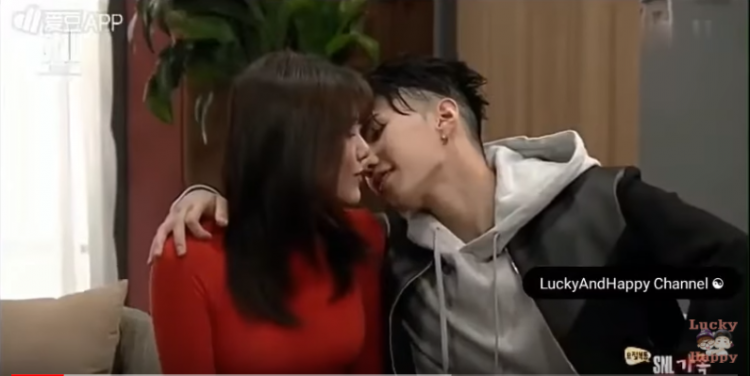 In the final episode of "SNL Korea 9", former cast members, including Jay Park, were invited. His lovey-dovey and playful skit with AOA's Hyejeong sprinkled butterflies to the audience' stomach as the cute pair nearly kissed.
Rapper Jay Park was a regular cast of "SNL Korea" from seasons 4 to 6. After a series of musical performances, Jay Park gave the show an interesting highlight. In the adorable skit he played for the final episode, the meet-the-parents scenario turned out to be hot and steamy according to SBS.
In the romantic comedy skit, Jay Park is meeting the family of Hyejeong, his girlfriend. Even before the skit starts, there's a mushy vibe between the two.
At first, the living room turned out to be empty and since the promising boy is quite nervous, he asked Hyejeong is they should kiss. The adorable actress sweetly replied, "What if someone walks in on us?" The crowd goes wild on their television screens as Jay Park impishly ignored what her girlfriend said and moved closer to her.
The cheesy moment was interrupted by Hyejeong's younger brother, played by Lee Se Young. Too bad for fans who want to see the pair seal the deal.
Jay Park is a singer, songwriter, record producer, model, rapper, and a member of the Seattle-based group, Art of Movement (AOM). He is also the founder and co-CEO of AOMG, an independent hip hop record label. This year, he received the "Musician of the Year" award while his work "Everything You Wanted" won "Best R&B & Soul Album" given by "Korean Music Awards".
On the other hand, Shin Hyejeong is a South Korean singer, actress, and a member of the girl group AOA. She's a regular cast on "SNL Korea 9" and she landed the lead role in the 2017 film "Mysterious Solver".
© 2023 Korea Portal, All rights reserved. Do not reproduce without permission.