MONSTA X explains 'Dramarama' music video scenes: Group to release Japanese version song of 'SPOTLIGHT'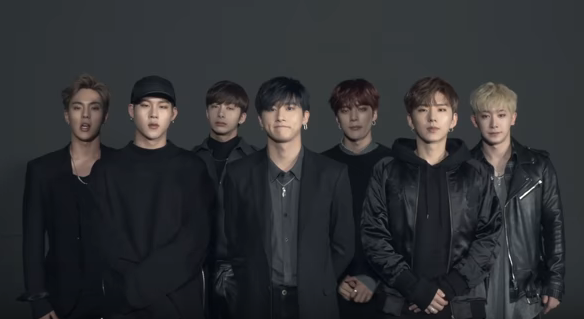 MOSTA X has returned with their fifth Mini album "The CODE" which was released on November 8 and features the title track "Dramarama", along with "Now Or Never", and "In Time" to name a few. The recently released video showcased MONSTA X filming their acting pieces while the members elaborate the meaning of each scene in the wake of the perplexing music footage.
The plot between Kihyun and Jooheon in the "Dramarama" music video shows Kihyun who travels back and forth several times in an attempt to save Jooheon from being involved in a car accident. But in order to save Jooheon, Kihyun must sacrifice himself. Jooheon stays alive, thanks to Kihyun's sacrifice.
Kihyun jokingly said that the story is exactly similar to his actual everyday life. Jooheon agrees while acknowledging that Kihyun is actually like that.
It is worth noting that the car that was used and crashed in the video is not a computer-generated scene. It was actually a real vehicle and a contraption was used to rotate the car while Jooheon was inside. It was then followed by a real destruction of the car, according to Soompi.
Hyungwon's role, on the other hand, denotes that of an absolute time traveler. The "Dramarama" music video also features how he manipulates time like making the rainfall backward. He governs his power by hewing magical watches that can be useful for time travel.
Minhyuk and I.M took the role of siblings who are grievously separated by time. Hyungwon provided him with a time traveler watch after seeing how he works hard in the café and rewarded of him the chance to see his brother again,
As for Wonho and Shownu, the duo exhibited Kumdo, a Korean sword fighting for the music video. According to Shownu, Wonho is a time traveler who travels back and forth just to practice Kumdo with him.
The song "Dramarama" was released on November 7 in South Korea. It was first aired on Korean music program SBS MTV "THE SHOW" and won first prize. The group was given the prestigious Best Entertainer Award in the "2017 Asia Artist Awards".
Because of MONSTA X success, the group has decided to release its original Japanese song called "SPOTLIGHT" on January 31, 2018. The song emerges with a big hip-hop style and finished to display growth to a danceable groove as it integrates a formidable hip-hop element that creates the release of a Korea debut.
The popular all-male group will release an original Japanese song named after their album "SPOTLIGHT". This must-heard song will debut on January 31, 2018.
© 2023 Korea Portal, All rights reserved. Do not reproduce without permission.