Camila Cabello Brings in a Sizzled Performance at the 2017 MTV EMAs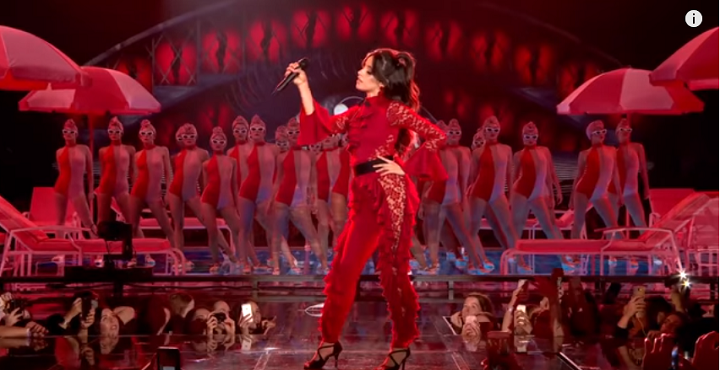 Camila Cabello, who currently sits at the top spot in the U.K. singles chart and the No.2 spot in the Billboard Hot 100, delivered one of the EMA's best performance, complete with dozens of dancers with a striking swimming pool set on stage. The Cuban-born singer set the stage on fire with her Chicago-inspired performance of her hit single "Havana."
Wearing a red, ruffled bodysuit, Cabello's performance showed off his choreography sequence, with several of backing dancers offering her assistance. What was most impressive about her performance was her walk across what appeared to be a pool of synchronized swimmers, wrote Billboard.
Camilla Cabello's hit "Havana" featuring Young Thug reached the No.1 spot on the U.K. Singles chart after sitting in the second place for three weeks, wrote Forbes. It's her first No.1hit in the U.K, which now overshadows her No.2 spot with "Work From Home" back when she was still a member of Fifth Harmony. Camila Cabello left the Fifth Harmony back in Dec.2016 and soon started her career as a solo singer.
Other showstoppers of this year's EMA is Eminem who made his dramatic return to the stage. Shawn Mendes was the event's biggest winner, getting the loudest cheers from the crowd whenever his name was mentioned on stage. The crowd jeered, even more, when he took home the awards for best fans, best artist, and best song for his hit "There's Nothing Holdin' Me Back."
Shawn Mendes-who became the first artist under the age of 20 to get at least three No.1 songs on Billboard's Adult Contemporary Hits chart - also performed his hit single "There's Nothing Holdin' Me Back" at the Europe Music Awards in 1996.
British pop star Rita Ora proved that she is one entertaining host, starting the show with a pre-filmed skit that shows her running through the streets of London wearing a dressing gown as she made her way to the event, passing London's mayor, Sadiq Khan, along her way to the venue.
© 2018 Korea Portal, All rights reserved. Do not reproduce without permission.