'Dark Matter' Season 4: MGM Wanted To Revive Canceled Series For 'Stargate' Crossover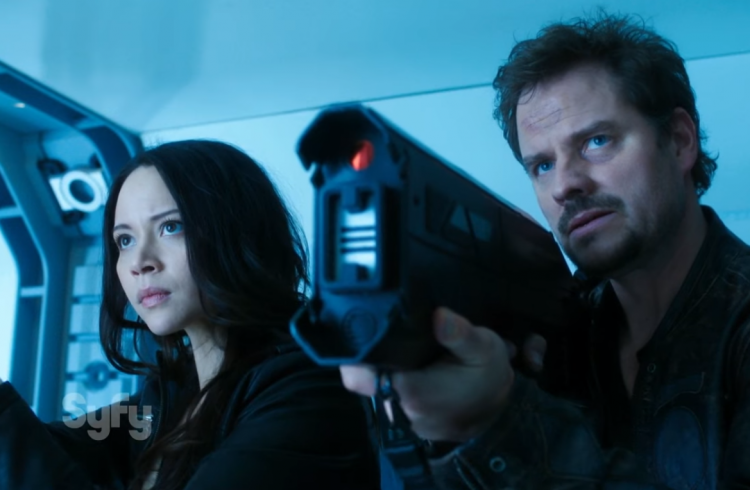 Last month, SyFy canceled the space opera, "Dark Matter." Since then, the people behind the series as well as its loyal fans have been campaigning to get it back on-screen if only to finish the story of the crew of the Raza.
While there have been some interests from network executives to revive the space opera, "Dark Matter" is still has not been picked up for a fourth season as of this writing. However, show creator Joseph Mallozzi revealed that there was a studio that almost saved the series following its cancellation on SyFy.
On a blog post, he revealed that MGM was interested in "Dark Matter." Mallozzi worked with the studio for 12 years as a producer for the "Stargate" franchise.
The screenwriter revealed that, shortly after the cancellation announcement, MGM reached out to him with the hopes of bringing "Dark Matter" Season 4 to its own streaming service, "Stargate Command" (that launched this month). The two parties discussed plenty of possibilities including a crossover between "Dark Matter" and "Stargate."
Mallozzi revealed in an e-mail to The Verge that the crossover was supposed to bring back a few familiar faces. "If the notion had gained traction, next step would have been dialing Brad Wright and Robert C. Cooper into the mix, since they were the creative forces behind the [Stargate] television franchise, and I couldn't imagine returning to that world without them," he shared.
Moreover, Mallozzi revealed that jumping onboard "Stargate Command" would have provided them an opportunity to have 20-minute installments to a full series order. There almost was a chance to give "Dark Matter" and the Raza crew a proper send off.
Unfortunately, the revival of "Dark Matter" and its crossover with "Stargate" did not happen for two reasons: time and existing contracts; the latter they cannot remedy. However, for fans, this news is proof that Mallozzi is still looking for ways to give the story of the Raza crew the conclusion it deserves.
© 2018 Korea Portal, All rights reserved. Do not reproduce without permission.