Nobel Prize Winner Called A Porn Star: Who Is Malala Yousafzai?
by
Athena
/ Oct 21, 2017 07:23 AM EDT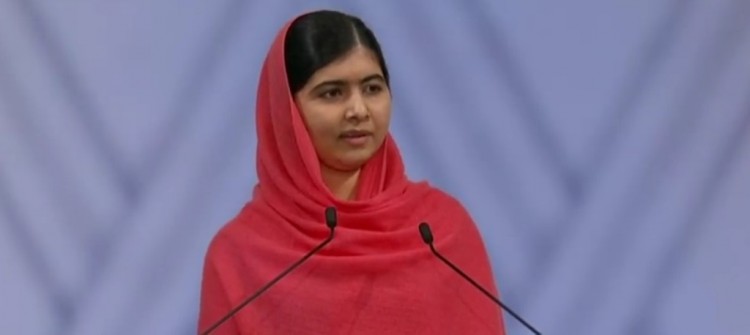 Malala Yousafzai, a Nobel Prize awardee from Pakistan, is being compared to former porn star, Mia Khalifa. The 20-year-old advocate for girls' education is subjected to the malicious comparison because she was seen in a picture wearing skinny jeans. While the said photo remains unverified, many of her people had already expressed their strong condemnation of her.
Malala Yousafzai started studying at Oxford University last week, taking up Philosophy, Politics, and Economics (PPE). While she was optimistic for this new chapter in her life, things turned awry when Twitter user Mehr Tarar posted a photo of her wearing skinny jeans and boots. The caption read: "Finally, a picture of Malala where she is just being a normal young woman. It's quite remarkable how her head is always covered."
The photo was then picked up by Pakistani site Siasat.pk and posted it on their Facebook page. Immediately, Pakistani netizens pointed out that Malala Yousafzai is seemingly quick to adopt the western clothing and that she was no longer accompanied by her father. Majority of the comments criticized her for her choice of clothing, with many stating that she is like porn star Mia Khalifa. There were some who denounced her as a Pakistani. Many were also supportive of her but their remarks were easily drowned by those who were voicing their strong disapproval. The picture (see below) is still not verified as of press time. More of the comments regarding the picture was compiled by The Indian Express.
Malala Yousafzai earned the admiration of people around the world when she was shot in the face five years ago. A Taliban gunman targeted her for openly campaigning that girls have the right to attend school. She was flown to UK for surgery and subsequently managed to finish studies in Birmingham. She continued to advocate for women's and children's rights to education. In 2014, she became the youngest person to be awarded the Nobel Peace Prize. More about her can be read in BBC's profile of her.
Finally, a picture of @Malala where she is just being a normal young woman
It's quite remarkable how her head is always covered... pic.twitter.com/IIkTjaygxl

— Mehr Tarar (@MehrTarar) October 15, 2017
Our #MalalaYousafzai of #Swat looks great in jeans. Can't understand why her choice of clothes is a problem for some. Pak haters get a life! pic.twitter.com/dojzev0AUW

— Bushra Gohar (@BushraGohar) October 16, 2017
5 years ago, I was shot in an attempt to stop me from speaking out for girls' education. Today, I attend my first lectures at Oxford. pic.twitter.com/sXGnpU1KWQ

— Malala (@Malala) October 9, 2017
© 2019 Korea Portal, All rights reserved. Do not reproduce without permission.