New 'Star Wars' Story Reveals Han Solo Stole Greedo's Girlfriend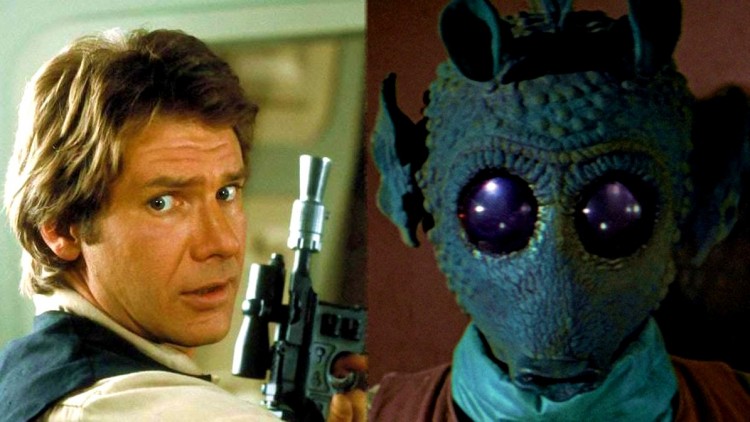 It's been 40 years since the original "Star Wars" came out, and yet we're still learning things about the film and its characters. Granted, some of the revelations come from new materials produced to expand on the cinematic storyline. Such is the case with the book "Star Wars: From a Certain Point of View" and its take on the Han-Greedo rivalry.
StarWars.com says that the book from Del Rey was commissioned to commemorate the film's 40th anniversary. Forty short stories by 43 writers were penned to present fresh ways of looking at the events of "Episode IV: A New Hope." The stories in the anthology are told from the points of view of minor characters, including a few who weren't in the film.
One of those is Boba Fett, who wouldn't appear onscreen until "Star Wars: The Empire Strikes Back" a few years later. (George Lucas would retroactively add him in the special re-release edition of "A New Hope.")
Screenrant reports that the Boba Fett point-of-view story depicts the bounty hunter on Tatooine searching for two droids the Empire is looking for. At one point, Boba Fett recalls vaporizing a trio of rebel spies, an act that prompted Darth Vader to tell him, "No disintegrations"--a line that would make it into "The Empire Strikes Back ."
As for Greedo, Syfy Wire reveals that his tale provides a motivation for the green guy's animosity toward the smuggler Han Solo. Writer Renee Ahdieh, in a story titled "The Luckless Rodian," depicts Greedo as a victim of romantic betrayal.
"Uncelta had been everything Greedo had cherished in a woman," Ahdieh wrote. But Greedo's lover would end up jilting him for Han Solo. This gives the luckless Rodian a more intense motivation to track down Han than a simple bounty. It also explains why Greedo would "shoot first" at Han, an act that is still canonical despite many fans' insistence that Han shot first.
© 2018 Korea Portal, All rights reserved. Do not reproduce without permission.