YouTube Star Kristen Hancher Live Streams Make-out Session With Boyfriend Andrew Gregory
by
Athena
/ Oct 12, 2017 07:31 AM EDT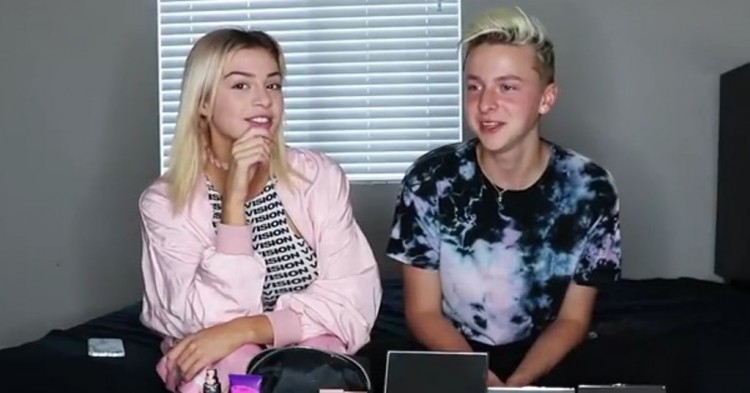 Kristen Hancher, who became famous through a YouTube series titled "Misshaps," had live streamed a supposedly private moment with her boyfriend, Andrew Gregory, who was also a social media influencer. The 18-year-old girl had accidentally posted the intimate moments with her 20-year-old beau on October 5. The supposedly confidential "alone time" between the couple already peaked across news channels worldwide by October 11.
Fortunately or unfortunately, Hancher found out about the accidental live streaming three minutes into their whole make-out session. She currently had about four million Instagram followers and 14,000 of them were able to catch the couple in the midst of their intimate moment. Fortunately again, her phone was facing upside down and the lucky or unlucky followers were only able to listen to the couple's make-out session.
After being aware of the unfortunate mishap, Hancher apologized to her followers. She reportedly stressed that it was unintentional and appealed to them to have the images deleted from their minds. She described the incident as "super embarrassing and super uncomfortable," Daily Mail reported. "Accidents happen. You have to move on and pretend like it never happened and go on with your life. That's what I'm gonna do," Daily Mail quoted Hancher as saying. She repeatedly said she was sorry, especially to those who were upset for lack of a detailed explanation from her part. Boyfriend Andrew Gregory, meanwhile, has yet to comment on the issue. The social media influencer had fewer Instagram followers than his girlfriend. The two began dating in April 2016.
Deadline previously reported that Hancher had also amassed more than 17 million followers on Musical.ly. She was nominated for the Teen Choice Award and as Breakout Creator at Steamy Awards for 2017. In June, Teen Vogue featured her and described her series as a modern-day "I Love Lucy."
Hancher's accidental live streaming of an otherwise private moment was not an isolated case and seemingly becoming common among social media personalities. In April this year, Nova Patra, a popular gamer online forgot to turn her camera off after one live video gaming. Later that day, she went back, unaware that her camera was still rolling, she was caught satisfying herself. Her YouTube subscribers immediately reached 35,000 after the "did," Unilad reported at the time. Many had since accused her of faking the incident to gain more subscribers.
© 2018 Korea Portal, All rights reserved. Do not reproduce without permission.