'Star Wars' News From NYCC: 'Thrawn' Sequel, 'The Last Jedi' Details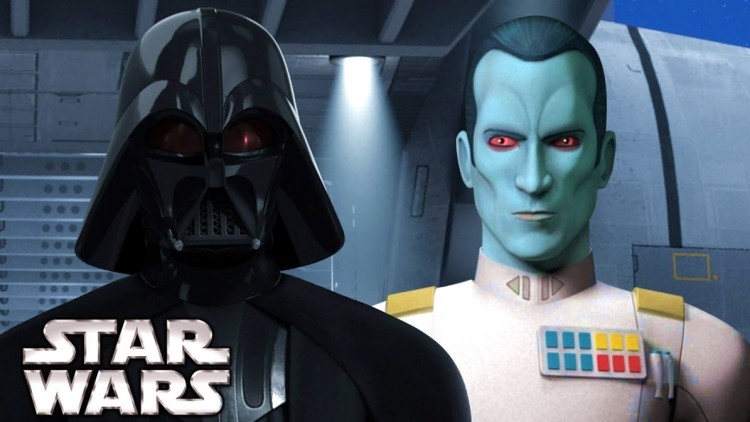 New York Comic Con 2017's Lucasfilm panels offered news about upcoming "Star Wars" books, toys and animated shorts. "Star Wars: The Last Jedi" lacked an NYCC panel, but an exhibit of movie props provided cool new details about the film's villains.
The Lucasfilm Publishing panel featured author Timothy Zahn's announcement of a sequel to his well-received "Star Wars: Thrawn" novel. According to io9, it will be titled "Thrawn: Alliances" and come out in summer 2018.
The exciting news is, the Thrawn sequel will have an appearance by Darth Vader. An image from the NYCC panel confirmed that this means Darth Vader of the original trilogy, not Anakin Skywalker.
The character of Grand Admiral Thrawn has long been a fan favorite of "Star Wars" novel readers. New York Daily News notes that Zahn introduced the villain in "Star Wars" books written in the '90s, which were declared "non-canonical" after Disney's acquisition of the "Star Wars" franchise.
But the popular character was reintroduced in 2016 on "Star Wars Rebels." In 2017, Zahn's "Thrawn" novel was published and became a New York Times bestseller.
Darth Vader will appear in the the Thrawn sequel, which is out next summer https://t.co/3afLsOtrGM pic.twitter.com/LHjVCbxzbp

— io9 (@io9) October 7, 2017
The "Star Wars: The Last Jedi" booth at NYCC looked like a control room in Starkiller Base from "Star Wars: The Force Awakens." The booth exhibited a number of props and costumes along with their descriptions.
Unsurprisingly, no real spoilers were evident, but some captions had intriguing new details about the villains Kylo Ren and Supreme Leader Snoke. The description for Kylo Ren's helmet revealed the reason why he uses it.
As seen on Star Wars News Net, the caption says, "The helmet was crafted to mask his visage and voice, concealing his identity as he delves further into the power of the dark side of the Force." This may be a key to Kylo Ren's psychology. It suggests he is trying to erase his former identity and take on a new one as the heir of Darth Vader.
Cool info confirming that Snoke will have a total of eight Praetorian guards in #TheLastJedi and why Kylo wears a helmet... #NYCC #StarWars pic.twitter.com/Yr4wcbhtt1 — SWNN (@StarWarsNewsNet) October 5, 2017
Another display revealed that Kylo Ren inherited his father's superb piloting skills. Could we see Kylo Ren engaging in a space dogfight in "The Last Jedi"?
The exhibit included helmets of the Supreme Leader's Praetorian Guard. The captions revealed that there are only eight of these elite guardians protecting Snoke.
The Last Jedi: New Details on the Praetorian Guards Weapons and Why Kylo Ren Wears a Mask - #TheLastJedi - https://t.co/bGSEVrSzUO pic.twitter.com/MVBkzQjr2L — SWNN (@StarWarsNewsNet) October 6, 2017
The display offered cool new info about the Praetorian Guard weapons. Some will wield a double-bladed sword that can be split into two single-bladed daggers.
© 2018 Korea Portal, All rights reserved. Do not reproduce without permission.
Tags:
Star Wars
,
Star Wars: The Last Jedi
,
Star Wars news
,
New York Comic Con
,
NYCC 2017
,
NYCC Star Wars
,
Lucasfilm
,
Star Wars books
,
Star Wars novels
,
Star Wars: Thrawn
,
Thrawn
,
Timothy Zahn
,
kylo ren
,
snoke
,
Darth Vader
,
Star Wars costumes
,
Star Wars props
,
Star Wars exhibit
,
Star Wars villains
,
Star Wars weapons