Iron Fist Moving Into 'Marvel's Luke Cage' Season 2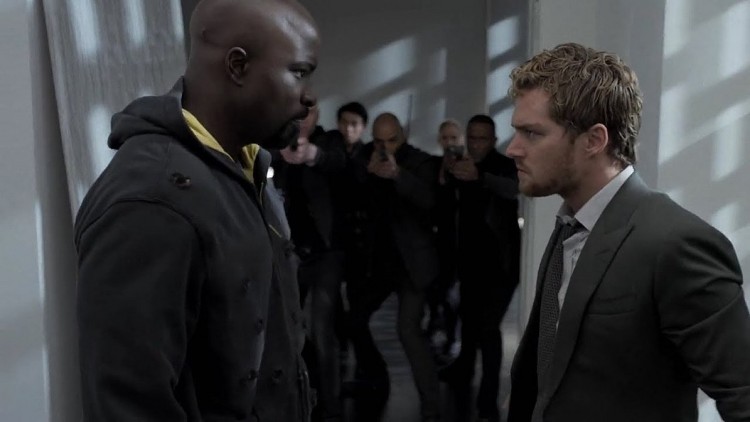 "Marvel's Luke Cage" is welcoming a new partner for the unbreakable hero, and it's none other than Danny Rand, the Iron Fist. The two of them teamed up along with Jessica Jones and Daredevil in August's "The Defenders," and are set to do so again as a duo in "Luke Cage" season 2.
Entertainment Weekly shares a photo of the two heroes together in an exclusive first look at the upcoming second season. The picture doesn't reveal much, showing Iron Fist (Finn Jones) and Luke Cage (Mike Colter) facing each other. And by the way, Luke absolutely towers over Danny in the photo.
Iron Fist didn't exactly have the best relationship with the other Defenders. But the duo of Luke Cage and Iron Fist has long been a classic team-up in Marvel Comics history. The two characters began in separate titles in the '70s, but Marvel decided to combine the two series into one as a sales strategy.
In December 1977, Luke Cage's series "Power Man" had a guest appearance by Iron Fist in issue no. 48. Marvel Database says that the two heroes fought each other in this issue, with Luke Cage almost killing the martial artist. It's a scenario that might crop up in "Luke Cage" season 2.
The two of them soon became friends and partners in the comic book, and with the release of issue no. 50, the series changed its title to "Power Man and Iron Fist." They are often referred to as the Heroes For Hire.
The A.V. Club suggests that Marvel Television wants to build up the audience appeal of the Iron Fist character, describing him as currently not being as cool or interesting as the other Defenders. A guest stint on "Luke Cage" could help, since it is scheduled to air before "Iron Fist" season 2. "Luke Cage" season 2 will premiere on Netflix on an unspecified date in 2018.
© 2018 Korea Portal, All rights reserved. Do not reproduce without permission.