'Rick and Morty' Crowned the No. 1 Comedy in Television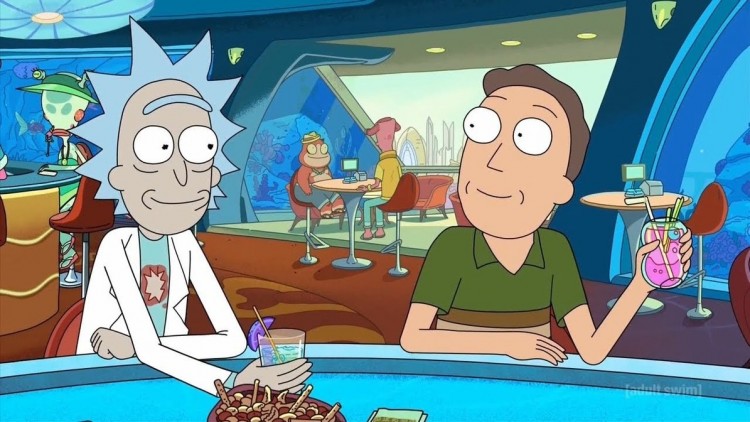 Animated series "Rick and Morty" caps its third season with a big win, as it officially takes the title of the number one comedy on television. The Adult Swim show brought in the highest ratings in the network's history with its wildly popular season 3 finale.
Created by Justin Roiland and Dan Harmon, "Rick and Morty" is a sci-fi comedy about a mad scientist and his messed-up family. On Sunday, October 1, Adult Swim aired the "Rick and Morty" season-ending episode entitled "The Rickchurian Mortydate." The episode's storyline is detailed in this review. The finale scored a rating of 3.9/821 in the adults 18-24 demographic.
TV By the Numbers reports that among adults 18-49, the season 3 finale got a 1.5 rating with approximately 2.6 million viewers, putting it ahead of every other cable program that day. Its closest competitor on Sunday was "Fear the Walking Dead," which pulled in a 0.9 rating and 2.36 million viewers.
Vulture notes that viewership numbers for the third season have made "Rick and Morty" the top-rated comedy series among millennials. This year, the average draw of a "Rick and Morty" episode is 2.5 million viewers in the adults 18-34 demo. This is significantly higher than the previous top comedy, "The Big Bang Theory," a network series averaging 1.8 million viewers per episode in the adults-under-35 demo. Another popular network show, "Modern Family," is averaging 1.6 million in that demo.
"Rick and Morty" has become the first cable series to rate the number one comedy across broadcast and cable networks. The show's numbers have benefited from counting delayed DVR and digital viewing as well as Internet live streaming viewership.
Astonishingly, "Rick and Morty" also wins on more traditional metrics, drawing an average of 5 million viewers an episode in the adults-under-50 demo. "Rick and Morty is truly what a modern day hit looks like across multiple screens and multiple touchpoints," said network president Christina Miller in Deadline.
© 2018 Korea Portal, All rights reserved. Do not reproduce without permission.