South Korea National Football Team's Head Coach Uli Stielike Eyes 5-Point Gap Over Match With Myanmar On Thursday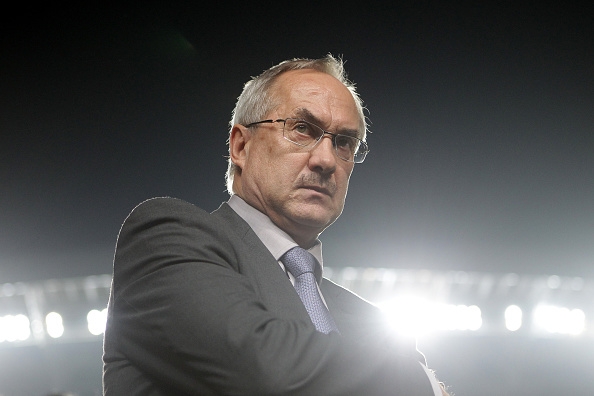 The South Korea football team of Head Coach Uli Stielike, with only one loss in all their matches this year, is yet to achieve a goal in the World Cup qualifying as they go against Myanmar on Thursday, reported FourFourTwo on Wednesday.
If South Korea emerges victorious over Myanmar in their second to the last match in 2015, they will go five points clear on top of Group G.
With Hong Jeong Ho's injury, Stielike counts on Son Heung Min and Lee Chung Yong in Suwon once they get back to their physical fitness.
"If Son Heung-min wasn't 100 per cent recovered his club team would have said something to us," said Stielike on the Tottenham striker's fitness. "Both the national team and his club team are monitoring his condition. I wouldn't have picked Son Heung-min if I didn't think he couldn't play against Myanmar. I called up Son and Lee Chung-yong thinking about the long-term view."
"Next March we will play Lebanon in qualifying. At that time the K-League players will just be starting their season," the South Korea coach added. "Their match fitness will not be that high. On the other hand the European leagues will be at their climax and the players' conditions will be at their best."
According to Korea Herald on Tuesday, South Korea, 48th in rank, will be facing Myanmar, 161st in rank, at 8 p.m. on Thursday at the Suwon, Gyeonggi Province in South Korea's fifth Group G match in the second round of the Asian qualification for the 2018 FIFA World Cup.
South Korea has reportedly won their first four matches against Myanmar, Laos, Lebanon and Kuwait, with an overall score of 12 goals. The country is currently on an 11-match unbeaten streak, with a 2-1 loss against Australia at the AFC Asian Cup Final in January.
Following the match on Thursday, South Korea will fly to Laos for another match under Group G next Tuesday. Two upcoming victories for South Korea will give them 16 wins for this year, the most ever recorded in a calendar year since 1980.
"We will need to bear down and concentrate," said Stielike before the team practice on Monday. "We've had a good run this year, and we'll try to end it on a positive note."
"It's nice to be at 48th on the FIFA rankings," he added. "But Iran is the first in Asia at No. 43. We will try to overtake Iran as the highest-ranked Asian team."
© 2023 Korea Portal, All rights reserved. Do not reproduce without permission.