Global Warming: Sea Ice Of Arctic Is Currently Melting And It Is The Lowest Point; Records Show [Video]
by
Elon A.
/ Sep 20, 2017 05:37 AM EDT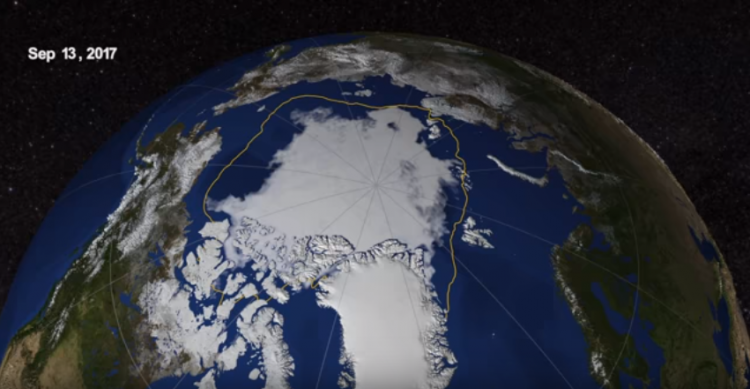 Global Warming has been hitting the Earth every day. Thus, it has been affecting a lot of aspects of nature. Recently, as climate change affects the planet every day, reports show that the sea ice in Arctic is melting to the point that it has already reached its yearly lowest extent.
The global warming hit the Arctic once again. It appeared on Sept. 13 to be at its lowest point in the consistent long-term satellite. The recording began since 1978. The analysis is being handled by NASA and the NASA-supported National Snow Ice Data Center (NSIDC), that is located at the University of Colorado Boulder.
This 2017, the temperature in the Arctic have been relatively mild for the given altitudes. It is even cooler than the average in some regions. Still, this year the minimum sea ice extent is 610,000 square miles or 1.58 million square kilometers. It is below the 1981-2010 average minimum extent, according to Phys.Org.
Thus, the senior scientist at NASA's Goddard Space Flight Center in Greenbelt, Maryland, Claire Parkinson said that "How much ice is left at the end of summer in any given year depends on both the state of the ice cover earlier in the year and the weather conditions affecting the ice. The weather conditions have not been particularly noteworthy this summer. The fact that we still ended up with low sea ice extent is because the baseline ice conditions today are worse than the baseline 38 years ago." This is the result of the unbeatable global warming, according to Science Daily.
In addition, because of global warming, the sea ice of the Arctic and Antarctic extents month by month. It shows through the satellite records. Globally, the global warming penetrated through the sea ice since the late 1970s, in each portion of the annual cycle of ice decay and ice growth. Parkinson added that, in fact, this 2017 every month of January through August the sea ice experiences a new monthly record of low extent in the global sea ice.
© 2019 Korea Portal, All rights reserved. Do not reproduce without permission.