'Lingerie Girls' Generation' Coming of Age Drama Set in 1970s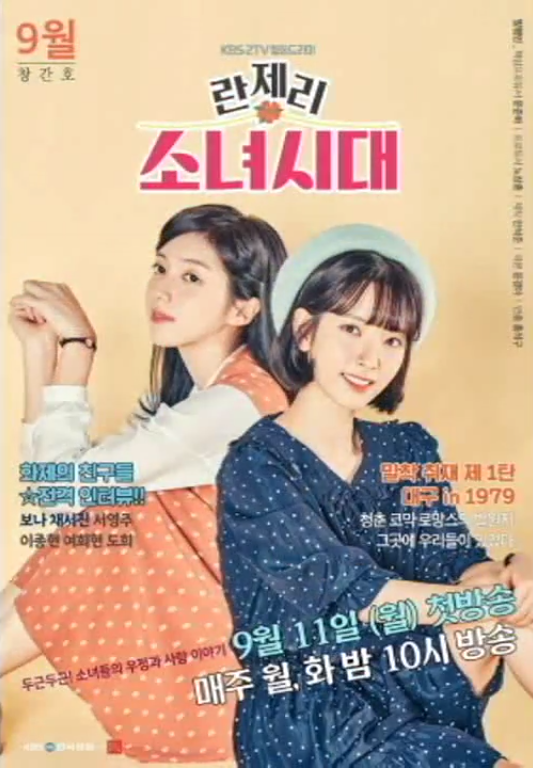 A new throwback drama is here to capture our hearts. "Lingerie Girls' Generation," (also "Girls' Generation 1979") is the drama adaptation of a novel by Kim Yong Hee, the production is set in the 1970's in Daegu.
"Lingerie Girls' Generation" cast starts with Cosmic Girls' Bona ("The Best Hit"), who plays the main lead, Lee Jung Hee, KBS described her as someone who wants to be pretty, smart and popular with boys, but is not. The latest teaser for the drama reveals Jung Hee's bright character and her group of friends. She has an unrequited first love for Seon Jin, the most popular guy in Daegu played by actor Yeo Hoe Hyun ("Solomon's Perjury"). Meanwhile, Seo Young Joo ("Solomon's Perjury") plays the character of Bae Dong Moon who is in love with Jung Hee. Min Do Hee ("Mirror of the Witch", "Reply 1994") plays Shim Ae Sook, a school bully, and a gang leader.
Their world was disturbed when Park Hye Joo played by Chae Seo Jin ("My Brilliant Life") arrives as a transfer student from Seoul. She becomes "the first love of the many" according to Dramabeans and becomes an automatic rival of Jung Hee. CN Blue's Lee Jong Hyun ("My Only Love Song", "Orange Marmalade") completes the lead characters who portrays the character of Joo Yung Choon, a country bum and a pharmacy part-timer who is cold on the outside but is actually warm hearted.
The actors of "Lingerie Girls' Generation" together with its producers Lee Gun Joon and Moon Joon Ha, and director Hong Suk Goo and writer Yoon Kyung Ah, met last August 18 for their first script reading. The actors were able to easily transform into their characters with the Daegu dialect that will be used for the drama, as reported by Soompi.
Director Hong Suk Goo said that he is excited for the production because it takes place in the time where he used to live. As a coming-of-age throwback drama, viewers have high expectations on "Lingerie Girls' Generation." Throwback dramas have been popular especially because of the Reply series which started in 2012. This interesting coming of age drama is set to premiere on September 11 on KBS2's Monday - Tuesday timeslot. You can watch the drama teaser below.
© 2018 Korea Portal, All rights reserved. Do not reproduce without permission.