Eminem New Album 2017 Release Date, News & Update: Song Titles & Collaborations Leaked? 'Lose Yourself' Rapper To Stop Making Music Soon?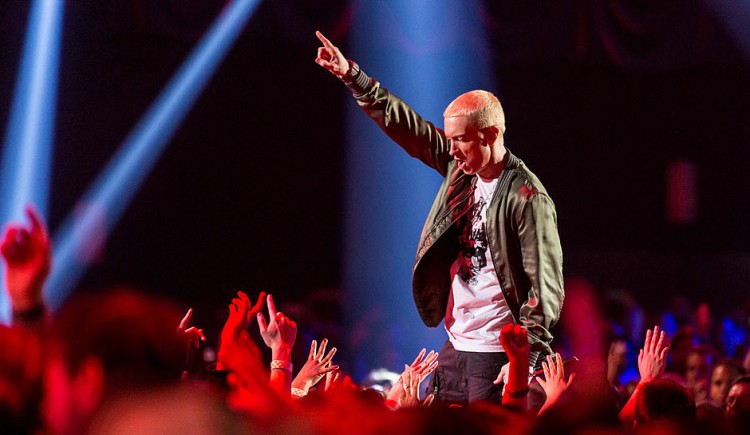 Eminem is said to be working on his upcoming ninth album and his fans are so excited for it. However, recent reports are claiming that the "Lose Yourself" rapper might consider quitting showbiz after his next album's release.
Blasting News reported that Eminem could possibly stop making new music. Rumors have it that the "Partners in Rhyme: The True Story of Infinite" documentary is an obvious hint that the 44-year-old rapper might retire very soon.
The said biopic featured Eminem's quest before he became one of the most sought-after rappers of his generation. The clip also narrated how a 20-year-old kid was able to record songs and later released his debut album.
Eminem shared that all the challenges he faced taught him one thing: not to care about other people's opinion. The "Stan" rapper also shared that he worked very hard to reach his dreams and "stopped giving a f-k" about his detractors.
While these speculates could possibly be true, Eminem has yet to comment on the retirement rumors. So, fans of the "Love the Way You Lie" rapper should take everything with a grain of salt.
Meanwhile, Korea Portal has previously shared that Eminem might release his next album on his 45th birthday in October 2017. Speculations suggest that this might be the "Rap God" hitmaker's gift to his avid fans who supported him through the years.
Other reports also claimed that the imminent album would Eminem's collaboration with several artists like Adele, Dr. Dre, 2 Chainz, The Weeknd and Vince Staples. Hearsays also have it that Nicki Minaj, Lana Del Rey, Imagine Dragons and 50 Cents would also be recording songs together with the American rapper.
To recall, a Reedit user allegedly leaked some details of the incoming album. According to the unnamed source, Eminem's new album is going to have 21 tracks, which include the "Bulletproof," "Everyday" and "Success" songs.
Eminem has not yet announced any detail about his upcoming album but it is predicted to hit stores in October. Stay tuned to Korea Portal for the latest news and updates about Eminem New Album 2017.
© 2019 Korea Portal, All rights reserved. Do not reproduce without permission.