'Game Of Thrones' Season 7 Spoilers: Daenerys To Storm King's Landing In 'The Spoils Of War'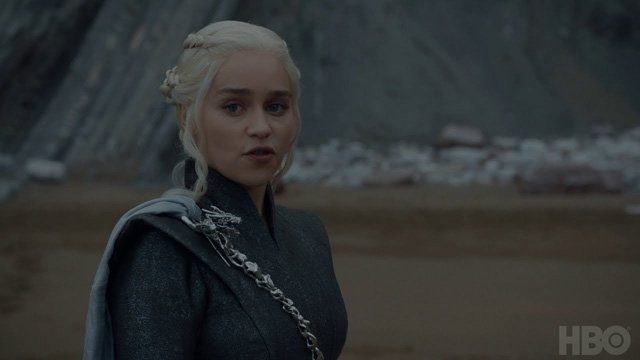 After suffering from a surprise ambush by Euron Greyjoy and outsmarted by the Lannisters in their raid of Casterley Rock, Daenerys Targaryen may have finally lost her patience. In a recent trailer for "Game of Thrones" Season 7 Episode 4, the Mother of Dragons looks unhappy over Cersei drawing first blood in the war for the Iron Throne.
Based on the trailer, Daenerys is seen addressing her advisers and her guest Jon Snow as she expressed impatience over the challenges that her best-laid plans for the throne are encountering. "All my allies are gone," she said, referring to all the Kingdoms who have pledged their loyalty to her in "Game of Thrones Season 7."
It can be recalled that in "Game of Thrones" Season 7 episode 2, Daenerys finally met Olenna Tyrell, the only surviving member of House Tyrell, and Elyria Sand, who has seized control over Dorne to exact her revenge against Cersei. The two houses were supposed to rally their troops to storm King's Landing to make an epic statement while the Dothraki and the Unsullied launch a separate attack against Casterley Rock to defeat the Lannister stronghold.
However, Euron Greyjoy's ambush which destroyed a huge part of Daenerys' fleet and captured Yara Greyjoy and Elyria Sand effectively ended the plan to fetch the Dornish army from Dorne and also lost Dany an effective general in the person of Yara Greyjoy who was last seen as Euron's prisoner on the streets of King's Landing. While both women remain alive, their capture is a big blow to Danerys' claim to the throne.
In the new trailer, Daenerys declares: "Enough with the clever plans." It seems that Dany will finally sit her dragons on her enemies in retaliation for the attack and it is possible that Jon Snow will soon pledge his alliance to the Mother of Dragons as well, reports say. "Game of Thrones" Season 7 Episode 4 is entitled "The Spoils of War."
© 2018 Korea Portal, All rights reserved. Do not reproduce without permission.