'Man Who Dies To Live' Update: MBC Says Sorry Over Racist, Islamophobic Scenes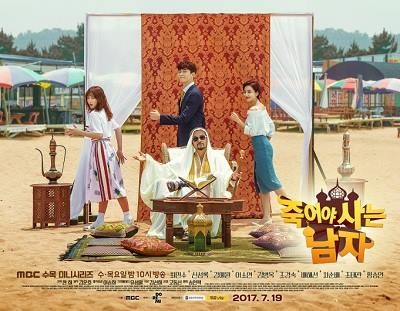 "Man Who Dies to Live" premiered on MBC on July 19. After the airing of a few episodes, the South Korean drama series was slammed for being racist and Islamophobic.
Written by Kim Sun Hee and directed by Go Dong Sun, "Man Who Dies to Live" is about Count Saeed Fahd Ali (Choi Min Soo) of Bodoantia, a fictional kingdom that resembles Saudi Arabia. The character used to be a worker who was born Jang Dal Koo in South Korea.
Saeed Fahd Ali then goes back to his home in South Korea to find a long-lost daughter. However, the king suddenly ordered him to marry a princess within one month.
Among the "Man Who Dies to Live" scenes criticized for its disrespectful depiction of Islamic culture were the ones with Choi's character wearing traditional Muslim attire while drinking wine and with Muslim women wearing hijabs with bikinis. In another scene, there was an advertisement saying "Buy one princess, get two for free" while women in hijabs wait to be chosen by a man.
On July 17, Go attended a press conference at MBC TV's headquarters in Seoul. The director explained that Saeed Fahd Ali is very unpredictable but he has many sides that can be related to in the present society, Yonhap News quoted him as saying during the event.
For Choi, playing Saeed Fahd Ali was not easy because he had no character to refer to. During the event, the actor was referred to as the long-time show business hero of his "Man Who Dies to Live" co-star Kang Ye Won, who signed with SM C&C in 2013, All Kpop reported.
On July 21, MBC took to Twitter to issue a public apology. The network wrote that "Man Who Dies to Live" is fictional story based on an imaginary country called Bodoantia all characters, names, places and designation in the series are entirely fictional
MBC emphasized that it had no intention in "distorting any particular religion, culture or people." The network added that had no intention to offend "the values, culture, religion or people of Arabic and Islamic countries."
MBC expressed "sincere regrets and formal apologies to the viewers who may have been offended watching the drama" but did not confirm whether or not it will stop airing "Man Who Dies to Live." The network ended its public apology with, "Please be assured that MBC will take extreme caution in production from now onwards."
© 2018 Korea Portal, All rights reserved. Do not reproduce without permission.