2NE1 News: CL, Sandara Park Vacation In Palawan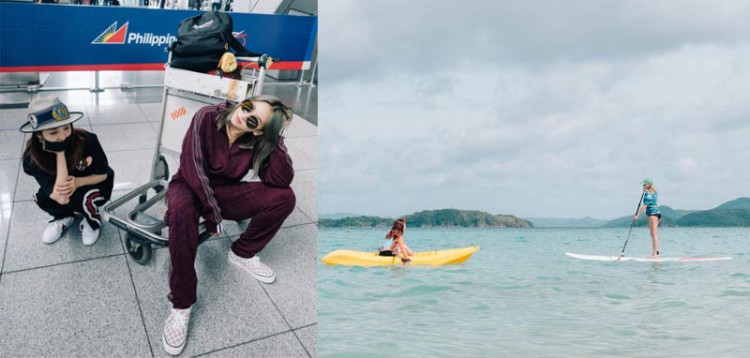 Former 2NE1 members CL and Sandara Park recently enjoyed a short relaxing break in Coron, Palawan. The low-key vacation was shared by the good friends on their separate Instagram pages and it seemed like they had a blast.
According to a report by ABS-CBN, it was rumored that Sandara Park was in the country when a fan reportedly bumped into her and CL at the Ninoy Aquino International Airport in Manila. The duo was on their way to the island of Coron, in Palawan, known as a natural paradise to everyone who has ever paid the area a visit.
Sandara shared that they enjoyed their stay at their resort, as well as activities like having a spa day, kayaking and of course, island hopping. CL also shared the highlights of her vacation which included island hopping and swimming.
While 2NE1 has disbanded last year, CL and Sandara have remained very close and supportive of each other. While they are busy with their own schedules, CL made sure that she and Park Bom were present for the VIP screening of Sandara's debut movie "One Step." Sandara has also shared an Instagram video of her picking up CL from the airport after a work trip.
The two have also remained close with their fellow 2NE1 members even though they don't see each other very often. CL, Sandara, and Park Bom all took to social media to endorse their maknae Minzy's first solo album "UNO," and maintained that they will always be 'sisters' no matter what.
CL has recently teamed up with Justin Bieber's agent Scooter Braun for her upcoming solo album to have an international release. She is also rumored to be a potential replacement for Fergie as The Black Eyed Peas'" vocalist, Korea Portal reported.
Sandara, on the other hand, is pretty swamped with hosting and film activities. She was recently tapped as a permanent cast member of "All Broadcasts in the World" in addition to being an MC of lifestyle show "Get It Beauty" and "Relationship Appeal." She is also set to star in two upcoming movies - the film adaptation of "Cheese in the Trap" and "107th Year of Night." The star has recently released her youtube channel Dara TV and her own fashion line.
© 2018 Korea Portal, All rights reserved. Do not reproduce without permission.