NBA Season 2017-18: Brooklyn Nets' Jeremy Lin, D'Angelo Russell Redundant?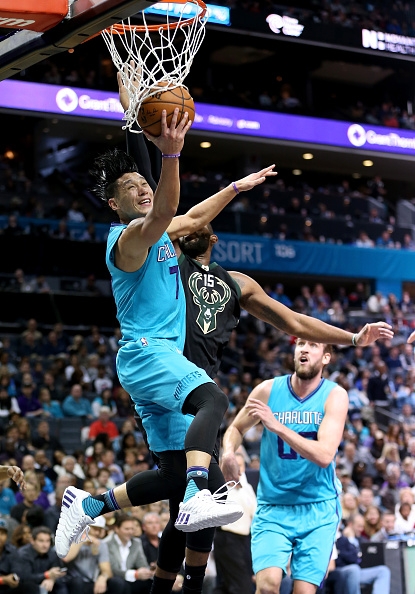 For some NBA fans, having Taiwanese-American basketball star Jeremy Lin, 28, and D'Angelo Russell, 21, in the same team, the Brooklyn Nets, is redundant. The latter, however, thinks otherwise considering that neither of them is a pure point guard.
On July 11, Russell attended the Gatorade's Athlete of the Year 2017 event, in which track and field standout Sydney McLaughlin became the first two-time Gatorade female Athlete of the Year. The awarding ceremony was held in California, USA Today reported.
During the event, Russell responded to the concerns of NBA fans that he and Lin have to do some sacrifices. The former told Sporting News, "I think it's a go. We just go. Whoever gets the ball, let's run."
Russell pointed out that he and Lin complement each other's game and the two of them are neither a point guard nor a shooting guard. For the former, he and the latter are "just basketball players trying to make the best of it."
During the NBA Season 2016-17, Russell averaged 15.6 points on 40.2 percent shooting and 4.8 assists for the Los Angeles Lakers. Lin, on the other hand, signed a three-year contract with the Nets and averaged 14.5 points and 5.1 assists in 36 games.
Lin suffered injuries during the NBA Season 2016-17. He dealt with ankle and hamstring issues and was even ruled out at one point.
The NBA Season 2017-18 will start on Oct. 17. The 2017 NBA champion Golden State Warriors will host a game at Oracle Arena in Oakland. The opponent has yet to be announced.
Kenny Atkinson will still be the head coach of the Nets for the NBA Season 2017-18. Russell and Lin's teammates include Quincy Acy, Jarrett Allen, Trevor Booker, DeMarre Carroll, Allen Crabbe, Spencer Dinwiddie, Archie Goodwin, Joe Harris, Rondae Hollis-Jefferson, Sean Kilpatrick, Timofey Mozgov, Yakuba Ouattara, Isaiah Whitehead and Carvis LeVert.
On July 20-21, LeVert went to Taiwan to join Lin as a guest coach in his annual basketball camp. Weeks before this, the Nets were eliminated in the Las Vegas Summer League's quarterfinal round.
© 2018 Korea Portal, All rights reserved. Do not reproduce without permission.