'Star Wars Episode 8 The Last Jedi' News, Updates: Kylo Ren Getting A New Ride; To Boast Cloaking Features?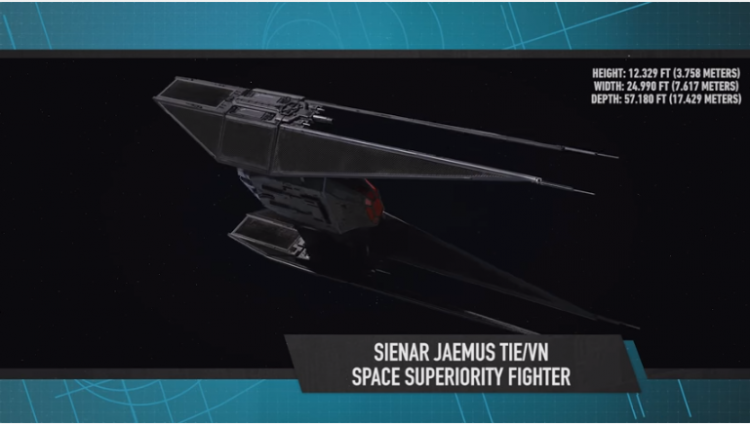 "Star Wars Episode 8: The Last Jedi" may still be months away, but a plethora of leaks, rumors, and fan theories have been brought up even before it was made known to the fandom. Another content of the upcoming film has just been revealed as antagonist Kylo Ren (Adam Driver) will be getting an upgraded version of his previous ride.
"Star Wars'" official website posted an image of Kylo Ren's upcoming TIE fighter dubbed as Sienar Jaemus TIE/VN Space Superiority Fighter that also goes by the moniker as the TIE Silencer. Per the spacecraft's description, the new ride will be "reminiscent" to Darth Vader's TIE Advanced, and the Empire's Interceptor. Furthermore, it stated that there's no other craft within The First Order like the Silencer as it will be an indispensable hardware for Kylo Ren in tracking down Rey (Daisy Ridley) and Luke Skywalker (Mark Hamill) in "Star Wars Episode 8."
According to "Star Wars'" official YouTube channel as cited by Polygon, the TIE Silencer is buffed up with a missile launcher and laser cannons. Moreover, the video also featured screenshots of Kylo Ren inside the ship, though snapshots of the "Star Wars Episode 8" baddie may have been blurred out.
As the name suggests, the TIE Silencer is believed to be sporting stealth capabilities or even cloaking features. In addition, rumor mills also stated that this could be the aircraft that Kylo Ren will be using when he heads to the planet of Ahch-To where Rey sought the tutelage of Luke in "Star Wars Episode 8."
Aside from Kylo Ren's new ride in "Star Wars Episode 8," it was also revealed early on the First Order's enhanced version of the towering walkers as all of these will be seen into action when "The Last Jedi" comes out on December 15. Check out the video about the new ship here:
© 2021 Korea Portal, All rights reserved. Do not reproduce without permission.