Mayweather Vs. McGregor: Sky-high PPV Rates, Huge Fight Purse Spark Rumors That Superfight Is Mere Moneymaking, Marketing Ploy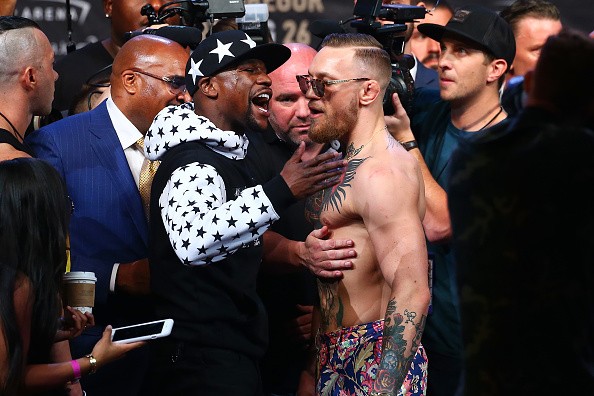 Pay per view prices have been revealed for the epic showdown between undefeated boxing champ Floyd Mayweather Jr. and UFC Lightweight Champion Conor McGregor and the prices have fueled suspicion the fighters are only fighting for a big payday. The cost of each PPV is pegged at close to $100.
According to a report, Highsnobiety, Pay Per View rates for the Mayweather-McGregor fight costs $89.95. For HD PPVs, viewers need to shell out an extra $10 bringing the price to $99.95.
The report said that the PPV for the Mayweather-McGregor fight costs the same as the Mayweather-Pacquiao fight which generated 4.6 million buys translating to some $400 million in earnings. In 2015, the Mayweather-Pacquiao fight was one of the most anticipated boxing events as the two sports icons battled it out to cement their legacy in the field of boxing.
Interest in the Mayweather-McGregor bout is generating the same level of excitement mainly because Mayweather is coming out of retirement to stake his undefeated record against UFC champ Conor McGregor. It would also be interesting to see how McGregor, a mixed martial artist fares against Mayweather as he is restricted by boxing rules.
This early, McGregor and Mayweather, two fighters who are also champions when it comes to trash talking have already set the gauntlet as they exchanged insults and gibes at the press conference. This early, however, Showtime broadcaster Mauro Ranallo is calling the fight in Mayweather's favor saying it would be difficult for McGregor to catch up with the professional boxer's striking skills which he has been training since the age of 4, LA Times reported.
According to a report by Forbes, Floyd Mayweather stands to earn at least $100 million from the fight purse alone but could reach as much as $400 million if the match reaches the same PPV orders from his match with Manny Pacquiao. For his part, Conor McGregor stands to earn a minimum of $75 million, his biggest payday to date but his purse to reach $127 million if all PPV targets are reached, Forbes reported.
© 2021 Korea Portal, All rights reserved. Do not reproduce without permission.