'Radio Star' To Feature Brown Eyed Girls' Narsha, Lee Hyori, Kahi, Chae Ri Na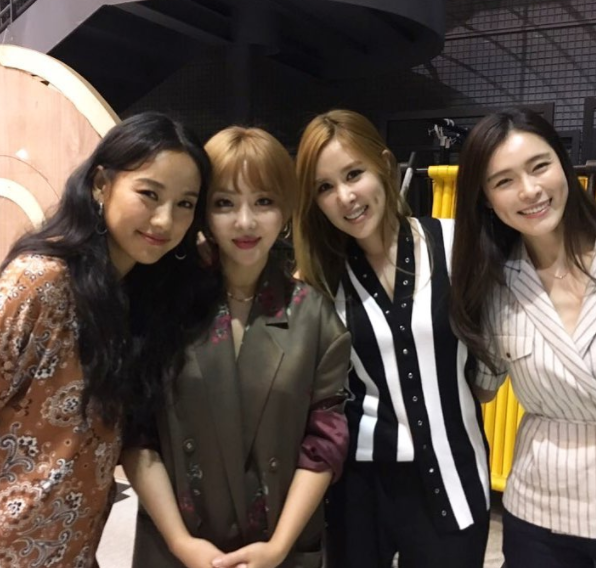 "Radio Star" managed to gather four legendary South Korean divas in one episode. Lee Hyori, Girl Friends' member Chae Rina, Park Ji Young, who is professionally known as Kahi, and Brown Eyed Girls member Park Hyo Jin, who is professionally known as Narsha, will be in one episode of the MBC talk show to be aired in July.
Narsha took to Instagram to share a photo of herself with Lee, Chae and Kahi after a recording session for the upcoming episode of "Radio Star." In the caption, the Brow Eyed Girls member referred to her fellow artists as her wonderful sisters.
Like Narsha, Chae and Kahi are both in a music career hiatus. Lee, on the other hand, has just made a comeback.
It has been two years since Brown Eyed Girls released a studio album. In 2010, Narsha released a solo album but has yet to follow it up with a sophomore solo album.
The hiatus is even longer for Girl Friends. The duo has yet to release another album since its second one, which was released in 2007.
Kahi also used to be a member of a group called After School. As a solo artist, her most recent song was the 2015 track "Runway" featuring Chae Yeon.
Lee went on hiatus, as well, after releasing her fifth studio album in 2013. She will release her comeback album titled "Black" on July 4, according to Soompi reported.
Aside from an album, Lee also returned with a reality show titled "Hyori's Bed and Breakfast." It made its premiere on JTBC on June 25.
While Kahi made a hiatus as a singer, she appeared on the first and second seasons of the Mnet reality show "Produce 101." Program director Ahn Joon Young recently talked about Kahi's teaching style in an interview with OSEN, as cited by All Kpop.
On "Produce 101" Season 2, Kahi became stricter on the male contestants that she was on the female contestants in the first season, Ahn said. The program director particularly praised her honest comments, which he said were very helpful.
© 2023 Korea Portal, All rights reserved. Do not reproduce without permission.