K-Pop Group BTS Boys Look Pretty In Innovative Fashion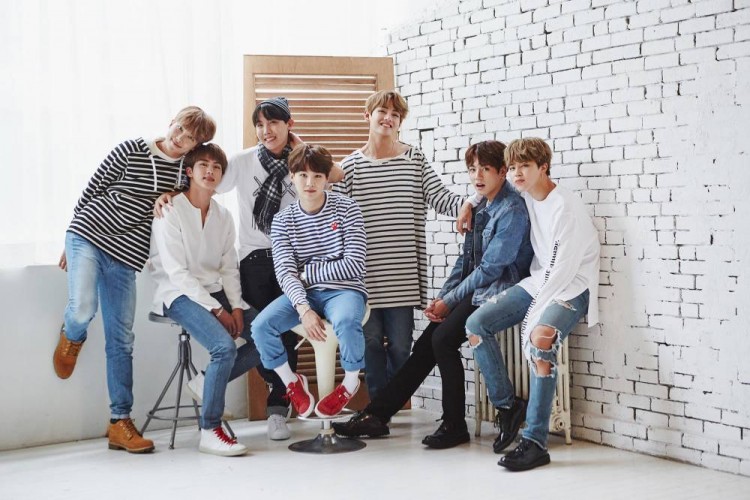 K-Pop boy band BTS celebrated their fourth anniversary on June 13. In time for their anniversary, the seven members of the group will be featured in a Japanese women's fashion magazine.
The boyband showcased their modelling skills in a recent shoot with Non-no Magazine. Wearing jewelry and layered shirts, they looked pretty as they made innovative menswear style look cool and interesting.
One of the menswear styles the boys showcased was a black sleeveless top layered over a similar denim shirt with embroidered cuffs. In the other photos, the boys can be seen wearing a striped button-down shirt worn backwards and a white button down over a long-sleeve chambray shirt.
It appears that BTS is getting a lot of attention recently. The K-Pop boy band won the Top Social Artist award at the 2017 Billboard Music Awards beating Justin Bieber, Shawn Mendes, Ariana Grande and Selena Gomez.
"Love yourself," the boys mentioned during their acceptance speech. This led to speculations that they were referring to the title of a TV series they are about to star in.
A representative of the group's agency Big Hit Entertainment has addressed these rumors. The representative confirmed that the K-Pop boy band members are about to star in a show.
"A drama project telling the stories of each of the members is one of the many programs that Big Hit is preparing to showcase this year, and/or next year," the representative said in a statement obtained by All Kpop. "But it is in the very beginning stages, so there is nothing more we can say on the matter."
Among the TV shows that featured the popular Korean group were "Rookie King: Channel Bangtan," "American Hustle Life" and "BTS GO!" The K-Pop boy band also appeared in the variety shows "Run BTS!," "BTS Gayo," "BTS Bokbulbok" and "BTS: Bon Voyage."
The seven members of BTS are Kim Seok Jin, Min Yoon Gi, Jung Ho Seok, Kim Nam Joon, Park Ji Min, Kim Tae Hyung and Jeon Jeong Guk. Their respective screen names are Jin, Suga, J-Hope, Rap Monster, Jimin, V and Jungkook.
© 2022 Korea Portal, All rights reserved. Do not reproduce without permission.