Jamie Dornan, Dakota Johnson Dating: Amelia Warner's Husband 'Displeased' After 'Fifty Shades Freed' Actress Spotted With Mysterious Man; 'FSOG' Actor Going Full-Frontal?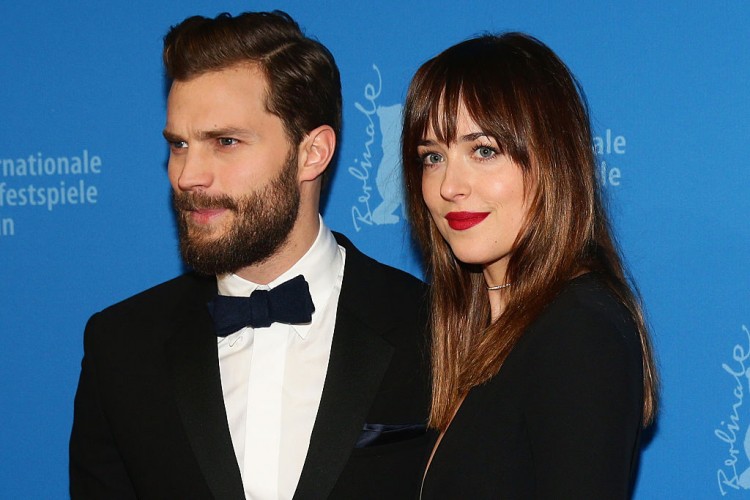 Dating rumors have been surrounding Jamie Dornan and Dakota Johnson since they are very effective in portraying as Christian Grey and Anastasia Steele in the "Fifty Shades of Grey" movie series. Now, new reports are claiming that the better half of Amelia Warner got resentful after learning that his leading lady was sighted with a mysterious man.
Blasting News shared that Jamie Dornan got jealous after Dakota Johnson was seen together with a hunky pal. According to the news outlet, the "Fifty Shades Darker" actress met an unidentified man in Hollywood.
Eyewitnesses have claimed that Dakota Johnson got a little cozy with the said gentleman. The leading lady of Jamie Dornan was seen sporting a very chic ensemble, wearing a black jumpsuit and a black pair of sunnies. The mysterious man, on the other hand, looked so casual on his black fitted shirt and dark-colored jeans.
Dakota Johnson was seen hugging the unidentified man, which had fans speculating that she could be dating a non-showbiz guy. This, too, sparked speculations that Jamie Dornan is displeased after learning the news.
It is not a secret anymore that Jamie Dornan and Dakota Johnson are being romantically linked to each other. As a matter of fact, it was rumored that the "Fifty Shades Freed" tandem has been cheating on Amelia Warner.
According to rumors, both Jamie Dornan and Dakota Johnson have been enjoying their steamy bed scenes together. There were even claims saying that the "Fifty Shades of Grey" stars were being monitored by Amelia Warner while filming the two sequels of the first movie.
Meanwhile, Korea Portal has previously shared that there are speculations about Jamie Dornan showing off his manhood in the upcoming "Fifty Shades Freed" movie. According to reports, the leading man of Dakota Johnson has been offered a whooping bonus to go full frontal in the second sequel.
However, Jamie Dornan had already made it clear that the management wants the next movie to have less erotic scenes since they also have young audience. The leading man of Dakota Johnson added that they want to keep the movie safe to adolescents despite its sexy theme. Stay tuned to Korea Portal for the latest news and updates about Jamie Dornan and Dakota Johnson!
© 2019 Korea Portal, All rights reserved. Do not reproduce without permission.