'Fairy Tail' Chapter 540 Spoilers: Sets A New Adventure; What We Know So Far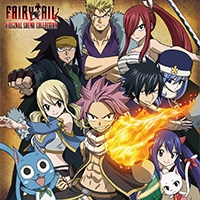 Natsu, Zeref, Lucy, and Gray will once again hit the spotlight on the new release of the manga, "Fairy Tail." Based in the previous chapters, Natsu mysteriously disappeared and there were some speculations that he eventually joined his brother.
The notorious black dragon named Acnologia managed to dominate the Ravines of Time in "Fairy Tail" and many are already looking forward to the release of chapter 540. He also declared that he was going rule all. In addition, he detained the dragon slayers in his time, according to Christian Post.
Like and RT
Even in the series, natsu confidence that exists :) #Nalu #FairyTail #Natsu pic.twitter.com/xCAJmuxCXg"

— Natsu Dragneel (@Natsu_FT68) June 10, 2017
There are only seven chapters left before the "Fairy Tail" series would end. The finale episode might center in the final battle between Acnologia and the Dragon Slayers would start. Others are speculating that Ichiya and Anna who have sacrificed themselves in order to trap Acnologia in the Ravines of Times, may still be alive somehow.
If Ichiya and Anna did somehow survive, they would be a force to reckon along with the Dragon Slayers when "Fairy Tail," chapter 540 is released. Additional reports from Korea Portal shared that Natsu's disappearance had nothing to do with the book E.N.D., but that remains to be seen.
For the fans and followers of "Fairy Tail," Chapter 540 will surely set the pace in much thrilling tone. The upcoming chapter titled "Harmony" is set to reveal the secrets and the possible fate of the main protagonist of the series.
Given the thrilling scenes and unexpected storyline for "Fairy Tail," chapter 540, it is understandable why fans and followers would expect stellar events to unfold. Despite the rumored storyline, everything should be taken with a grain of salt in mind.
© 2019 Korea Portal, All rights reserved. Do not reproduce without permission.