Seoul Gets A Rage Room: Come And Smash Whatever You Want
by
Mudit
/ Jun 15, 2017 03:42 AM EDT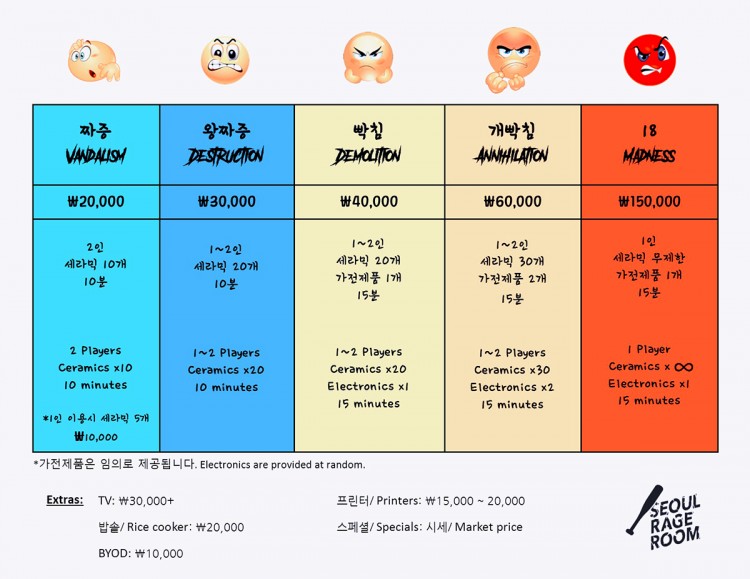 A recent addition to the city of Seoul has made it more stress-free than ever before. A Rage Room opened in Hongdae recently, that lets visitors break and destroy numerous household items. The Rage room is designed in order to help people get rid of daily stress by smashing and destroying everyday household devices.
Sessions start at a cheap 18$ fee and it is surprisingly affordable to destroy big items such asTV sets too. The Rage room has an age restriction, which prohibits anyone under the age of 18 from entering the room. If you are 18 or older, you can use the rage room for 15 minutes of destructive stress-free living.
The Seoul Rage Room even offers you the ability to bring your own items into the room and destroy them at your own will. The most basic package of the Rage Room includes 5 ceramics, which you can destroy at your will. Objects like Printers, TVs, Radios and other electronics carry an additional cost to them. The Rage Room has a rate chart that will help you better understand the costs of breaking and destroying things at your will. The Room is an attempt to help the Korean public get rid of their stress in a creative manner.
The company behind the concept encourages you to bring your camera along, in order to record your experiences. You can then share these videos on social networking websites and even advertise them on the company's website. Rage Room advises you to record from a safe distance as the company will not be responsible for any damage that may occur to your recording device or camera.
You can visit Seoul Rage Room's official website on this link and get a feel of the experience for yourself. The company promises one of the best stress-relieving experiences with the help of its new therapy method. Breaking and destroying everyday objects is always fun, especially if you can take your anger out on the printer that has been giving you trouble for quite some time now.
© 2018 Korea Portal, All rights reserved. Do not reproduce without permission.