BIG BANG's G-Dragon Drops 'Bullsh*t' Teasers For 'Kwon Ji Yong' Album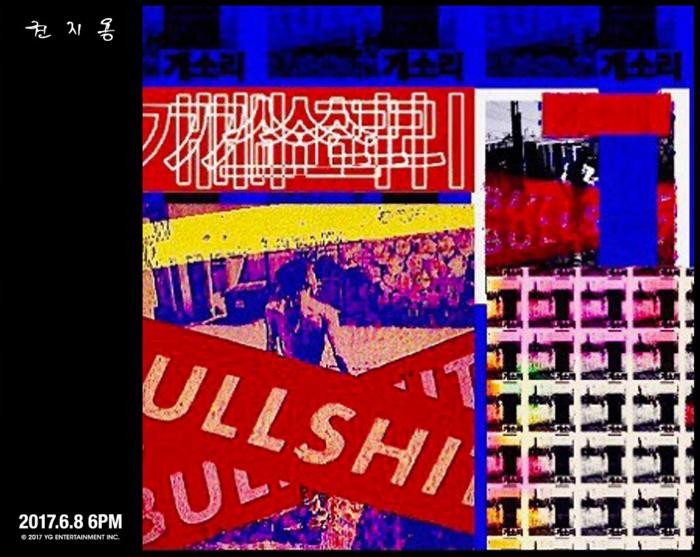 BIG BANG leader G-Dragon definitely means business when it comes to his solo comeback album "Kwon Ji Yong." Not only is he using his real name as the title of his new album, he is also teasing content that will take no "bullsh*t."
According to a report by SBS Pop Asia, G-Dragon dropped two edgy images related to the title track of his new album. The title track entitled "bullsh*t" and will be released on June 8 at exactly 6 pm. The BIG BANG leader has already been teasing some behind the scenes snaps of his MV filming and his fans are already super excited about what the global superstar would do with his new album.
So far, all the teasers related to G-Dragon's solo album use bold colors like green and orange that give the artwork a funky and edgy vibe. According to the official announcement of YG Entertainment via YG Life, Kwon Ji Yong will showcase a very different image of G-Dragon from his previous solo albums "Heartbreaker" in 2009 and "One of a Kind" in 2012.
As a prelude to the release of his solo album, G-Dragon recently collaborated with IU on the title track of her "Palette" album which achieved an all-kill in Korean charts. He also worked with PSY on the track "Fact Assault" for his comeback album "4 x 2 = 8." For both tracks, fans have noticed G-Dragon's very personal take on individuality and fame and it is expected that his solo album will show a deeper side to him to the fans.
After the release of G-Dragon's album on June 8, the BIG BANG leader will kick off his solo concert series on June 10 at the Seoul World Cup Stadium. He will perform in major venues in Macau, Singapore, Bangkok, Seattle, San Jose, Los Angeles, Houston, Chicago, Miami, New York, Toronto, Shizuni, Brisbane, Melbourne, Auckland, Fukuoka, Osaka, and Tokyo. The "ACT III: MOTTE" World Tour is expected to be G-Dragon's last performances before he receives his enlistment date later this year.
© 2022 Korea Portal, All rights reserved. Do not reproduce without permission.
Tags:
Big Bang news
,
BIG BANG updates
,
BIG BANG rumors
,
Taeyang Solo Album
,
Taeyang Solo Album
,
SOL Japan Stadium Tour 2017
,
Taeyang News
,
Taeyang Updates
,
Daesung News
,
Daesung Updates
,
D-LITE Japan Dome Tour
,
2017
,
G-dragon news
,
G-Dragon updates
,
G-DRagon solo album
,
G-DRagon solo album
,
Act III: MOTTE
,
T.O.P. military
,
T.O.P. enlistment
,
Seungri News
,
Seungri UPdates
,
Seungri solo album
,
T.O.P. drug scandal
,
T.O.P. marijuana
,
T.O.P. drug charges
,
G-Dragon Kwon Ji Yong
,
G-Dragon Bullshit title track
,
Kwon Ji Yong Teaser