'Injustice 2' Latest News & Update: Red Hood A Rushdown Character? Now Available On Xbox One, PS4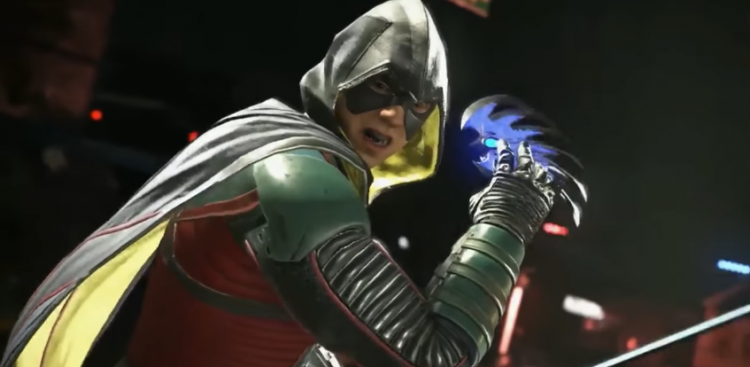 "Injustice 2" is already out and becoming one of the most played games for the gaming community. Aside from the 29 characters, three more are set to be added as DLC in the coming days, with Red Hood as the most requested character, whose first image was released by WB Games.
"Injustice 2's" Red Hood Is A Rushdown Character
Based on the official "Injustice 2" Facebook page, it seems like Red Hood will be a rush down character. Previously, fans thought that he will be among the many zoners of the game like Doctor Fate, Firestorm and Deadshot. However, the image is shown points to having a likely rushdown technique despite his range attacks.
"Injustice 2," meantime, is believed to have taken a new route in terms of rush down characters by adding more zoners that should be dealt with in the future. However, gaming fans would certainly be happy to see Red Hood become a likely rush down character. Incidentally, rush down characters have been a regular staple in fighters, and in fact, there were lots of them in "Mortal Kombat X."
Meanwhile, Red Hood is famous for his guns and also as a good hand-to-hand combatant. The DC fans reportedly look forward to seeing Jason Todd reprise his character as Red Hood, which means turning the vigilante into a DLC character was a good move. Meantime, "Injustice 2" is now available on Xbox One and PS4, Paste Magazine reported.
"Injustice 2" Is A Fantastic Fighting Game
"Injustice 2's" compelling story mode evokes the right amount of graphic novel grit and craziness from its massive cast. Reports suggest that it is largely a reason for superheroes like Supergirl and Blue Beetle to beat each other in a one-on-one bout. However, it has not kept it from sharing its fun and clever subversions on the ordinary formula.
Reviews also suggest that "Injustice 2" is a new fighting game that is huge in terms of style, having a character to its roster, to its phases that crumble under the magnitude of its battle, the game is fun and easy to get into. In fact, this might just be the new favorite fighting game even for those who have never played any game before, Telegraph reported.
© 2023 Korea Portal, All rights reserved. Do not reproduce without permission.