'The Walking Dead: The Game' Latest News & Update: Download Available As Gameplay Trailer Out Anytime; Season 3 Poster Reveals Kate's Fate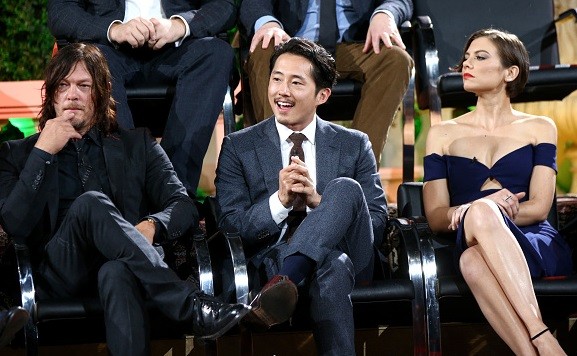 "The Walking Dead" Season 3 entitled "A New Frontier" is confirmed to release on May 30. Based on the promo poster, a huge spoiler seems to have been revealed about what will happen to the well-loved character of Kate.
"The Walking Dead: The Game" Downloadable On May 30
In an announcement made by Telltale via its official Facebook account, "The Walking Dead: The Game" is confirmed to be downloadable starting Tuesday, May 30. According to reports, a poster of the final season was released alongside the announcement, which also revealed that the new gameplay trailer will be out next week. Moreover, it also mentioned a new video that is set for release next week, featuring insights from the creative leads of the project.
"The Walking Dead" Season 3 poster announcement, meantime, appeared to have given out a huge spoiler for the next season finale. Based on the poster, it seems to suggest that Kate is already dead given her zombie image being magnified in the poster.
Meantime, one interesting theory from "The Walking Dead" fans insists that Telltale may have intentionally included Kate's zombie image to make the fans believe that her character has met the end. It further suggests that in the end, the game will have Kate back, Screen Rant reported.
Details About "Fear Of The Walking Dead" Season 3 Revealed
"Fear of the Walking Dead" is almost here for an epic return, and fans of the hit series can now barely wait for the Season 3 to premiere. The loyal fans are also excited to find out what should be expected from the new episodes of "The Walking Dead" spinoff.
In the official "Fear The Walking Dead" website, it was revealed that the families are going to be brought together in a violent part of the US-Mexico border. It further mentioned that the international lines have been removed after the word's end, and the characters should make an effort to rebuild both the family and the society, In Touch Weekly reported.
© 2023 Korea Portal, All rights reserved. Do not reproduce without permission.
Tags:
The Walking Dead Season 3
,
The Walking Dead Season 3 news
,
The Walking Dead Season 3 update
,
The Walking Dead Season 3 rumors
,
The Walking Dead Season 3 spoilers
,
The Walking Dead Season 3 cast
,
The Walking Dead Season 3 premiere
,
trending
,
trending news
,
Entertainment
,
technology
,
Games
,
gaming