South Korea's New President, Moon Jae In, Wishes To Meet Mark Zuckerberg
by
Ella
/ May 28, 2017 03:06 AM EDT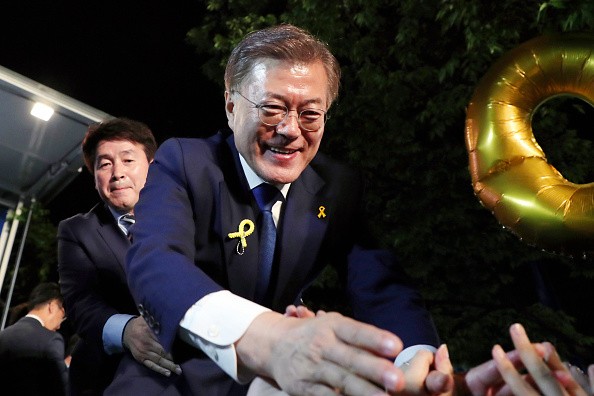 South Korea's new president recently expressed his wish to meet Facebook co-founder and CEO Mark Zuckerberg. According to a press release from the Blue House on May 21, shortly after winning the election Mark Zuckerberg sent an e-mail directly to Moon Jae In, congratulating the newly elected president. Zuckerberg also thanked him for visiting the Facebook Korea headquarters to do a Facebook live video during the elections to campaign for his candidacy.
During his visit to Facebook Korea, Moon Jae In pledged that he will focus on working towards the "fourth industrial revolution focusing on people", stressing the importance of online communication and how people are connecting more on online platforms. Mark Zuckerberg agrees with the new president's plans, stating that he is also actively doing the same thing. The Facebook CEO also expressed that he too wants to meet the 19th South Korean president soon.
Moon Jae In acknowledged Mark Zuckerberg's email and personally posted his response in a Facebook post. In his message, he thanked Zuckerberg for sending a congratulatory e-mail and said he shared the same sentiment of meeting in person. In his post, Moon Jae In said, "Mr. Zuckerberg, I would like to have an opportunity to meet you soon and share our thoughts on how we can communicate more effectively online with the people around the world. It is my genuine wish that you and the Facebook Team continue to be a great source of hope for the young generation of South Korea. Again, thank you for your kind letter."
Until today, Facebook continues to be the biggest social media platform in the world with over 2 billion active users monthly. It's not a far-fetched notion that Zuckerberg and Moon Jae In will work together on a project focused on "human-centered Fourth Industrial Revolution" in the near future.
© 2019 Korea Portal, All rights reserved. Do not reproduce without permission.