Cyclops Goat In India Gains Attraction
by
Ella
/ May 20, 2017 06:09 AM EDT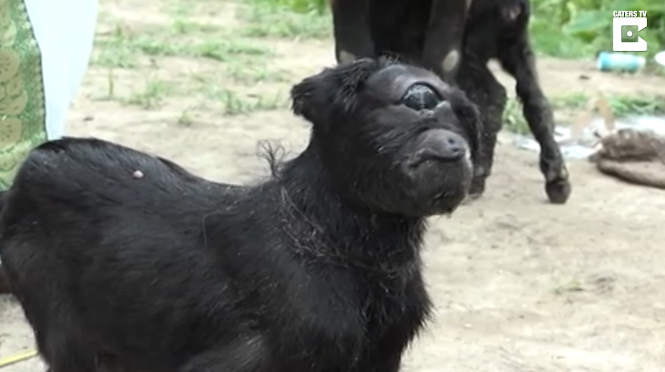 A one-eyed goat - or as the internet is calling it - cyclops goat is catching attention from all over the world. The odd creature was born in Assam, India and a video of the goat has been shared by thousands on social media platforms.
People are astounded that despite its oddity and deformation, it still managed to survive. Veterinarians said that it wouldn't live long after its birth so it's quite amazing that this one exceeded its life expectancy. Aside from its rarity, the cyclops goat is more noted for being absolutely unbelievable to look at. National Geographic said that the goat has a condition called cyclopia, which is a result of a "developing brain's failure to separate into two hemispheres. As a result, the skull only forms a single eye socket."
Mukhuri Das, the owner of the little goat told Caters News that he is ecstatic over the animal, believing that it will bring him good luck. Villagers and neighbors in the area have also shown a keen interest in the cyclops goat, ogling at the small creature from day to night. Das told Barcroft TV, "I was shocked. It's like a miracle and people have been coming to our place to see this baby goat," he continued, "It might be something from God that the baby goat was born in our house."
The owner is evidently enjoying the attention and fame his pet goat is receiving. He is quoted saying, "So many people are coming to our place to see this baby goat, we are happy that it's making us famous."
According to its owner, he feeds the baby goat just like any other normal animal, despite its defect in its jaw formation and missing teeth. As amazing and crazy as it is, this isn't the first case of a cyclops goat being born. A previous case reportedly only survived for 10 hours.
© 2018 Korea Portal, All rights reserved. Do not reproduce without permission.