State Food Agency In South Korea Launches 'HALAL Korea' App To Attract More Muslim Tourists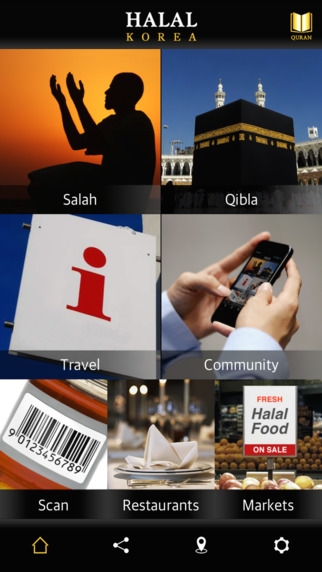 In the effort to lure more Muslim tourists to the country, a state-run food agency in South Korea recently launches the HALAL Korea mobile app that offers details and information on halal restaurants and supermarkets, reported Step Feed on Sunday.
The app even enables users to scan food product bar codes to identify which are halal certified. It also offers details on suggested tourist spots often visited by Muslims, including the nearest prayer rooms.
"The HALAL Korea application will contribute to promote Korean food and tourism in the halal market," says the agency.
In 2013, around 620,000 Muslim tourists have been recorded to visit South Korea and the figure is expected to increase with the new HALAL Korea mobile app campaign, which is available free only in the English language through Google and Apple.
With the increasing number of Indonesian tourists in South Korea, the app will also be made available in Indonesian and Arabic versions soon.
According to Travel Asia One on Oct. 20, the Muslim tourist market is among the rapidly increasing global sectors, with a projected worth of $200 billion by the year 2020.
The Jeju Tourism Association of South Korea even started offering a 12-page Muslim visitor guide for the Jeju Island available in travel agencies and may be downloaded online from HalalTrip.com.
Young Jin Kim, president of the Jeju Tourism Association, states that they aim to make tourists from across the globe feel welcome in Jeju Island for a one-of-a-kind experience.
The Muslim market has grown significantly as their population expands and more food companies are compelled to have their products certified to attract a wider market, noted Albawaba on Oct. 11.
"They are growing because we are increasing by 2.5 to 3 per cent every year," says president of the Islamic Food and Nutrition Council of America, Muhammad Chaundry. "Islam is the fastest growing religion,"
"When we talk about the halal economy growing by 20 per cent, it is the conversion from indiscriminate we-don't-know-what's-in-it economy to a definitely halal-certified economy," Chaundry notes in an Islamic economy forum in Dubai.
© 2018 Korea Portal, All rights reserved. Do not reproduce without permission.