U.S. And South Korea Pledge To Strengthen Defense Against North Korea; Defense Secretary Ash Carter Calls On Pyongyang To End Nuclear Weapons Program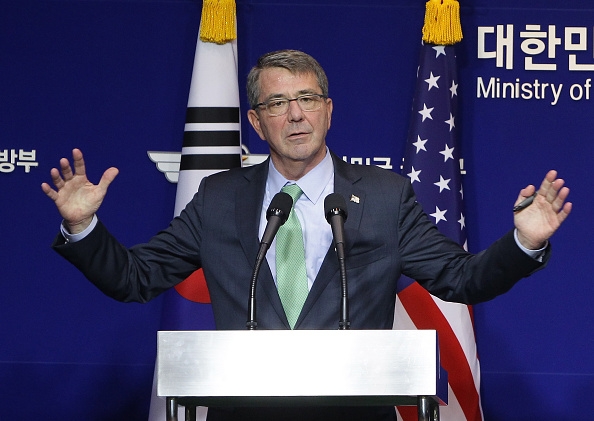 During his visit to the Demilitarized Zone (DMZ) that divides the two Koreas on Sunday, US Defense Secretary Ash Carter called on North Korea to stop its nuclear weapons program, as noted by The Guardian.
Standing on the South Korean side of an indicator inside the DMZ that serves the de facto boundary, the defense secretary told the reporters, "For now what we have is what you see beyond us - a very starkly divided and heavily defended border area."
According to reports, negotiations on its nuclear weapons program were discussed during talks between North Korea and five other countries including China, Japan, Russia, South Korea and the US. However, Pyongyang reportedly deserted the negotiations in 2009, as reported by VOA News.
"They should be on a path of doing less, and ultimately zero, in the nuclear field," Carter said.
The US defense secretary reportedly branded the North Korea an "up-close, dangerous and continuing threat."
Carter and his South Korean counterpart Han Min Koo attended a news conference on the same day. Reports have revealed that the South Korean defense minister said his country will not accept its rival's provocations.
According to a joint statement released after the US-South Korea security meeting, the two countries reportedly slam the recent plans of North Korea to launch a long-range missile or to conduct nuclear test.
"In the face of increasing threats, especially in the form of nuclear and missile threats from North Korea, we also agreed that the alliance needs to work in various ways to cooperate and to rise against and respond against these threats," Han said, as noted by the Associated Press Sunday.
Carter also said that the alliance between the US and South Korea "has never been stronger." He said that their commitment to South Korea is "iron-clad."
Meanwhile, US Joint Chiefs of Staff Marine Gen. Joseph Dunford and US Pacific Command commander Adm. Harry Harris have also participated during the security talks.
© 2023 Korea Portal, All rights reserved. Do not reproduce without permission.