Apink's Naeun To Take Legal Action Against Hater
by
Ella
/ May 01, 2017 01:55 AM EDT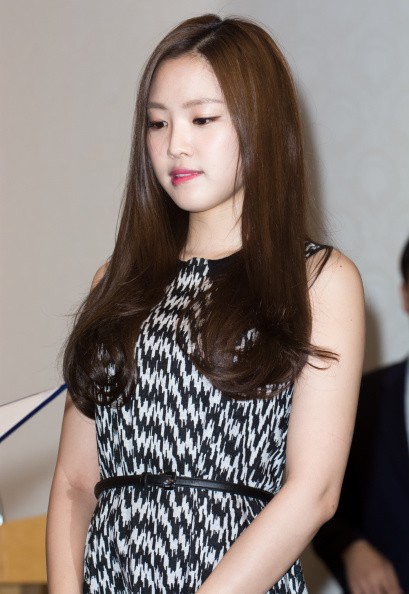 Apink's Naeun has had enough of a consistent hater who has been flooding the comment section of her Instagram. One particular user has been leaving lewd comments about Naeun, as well as insulting attacks against her younger sister and mother.
Naeun uploaded a photo of herself in the streets of Los Angeles, where the hater took the opportunity to call Naeun various names and make inappropriate comments about Naeun's underage sister. The malicious remarks include calling Naeun a 'sl*t', 'b*tch', and an 'idiot', among many other insulting slurs. The user displayed no class or breeding whatsoever when he spewed abortion claims and included references to comfort women in his attacks against the Apink member.
Upon seeing the flood of comments by the troll, Naeun responded by leaving a comment herself and directly replied to the said hater, who didn't even have a display picture. Naeun was particularly upset about his attacks against her family members, telling him, "Do you feel better about yourself now that you've cursed out my family? If you hate me, then only diss me. Stop saying such ridiculous things."
Unfortunately for the troll, Naeun and Apink's agency, Plan A Entertainment, revealed that they were planning to take legal action after gathering evidence of the attacks against Naeun on her social media account. According to the agency, the lawsuit is already in motion as they are working hard to protect their artists.
An insider at Plan A Entertainment adressed the situation regarding Naeun's hater, stating, "We will be taking strong legal action without leniency against those who spread groundless speculations and sexual insults to our artists, so as to protect them from defamation and malicious rumors that cross the line." The insider continued, "A lawsuit in regards to these thoughtless and malicious rumors is already in progress. We have prepared all the evidence required for this case, and we will continue to take legal action to prevent this from happening again."
© 2023 Korea Portal, All rights reserved. Do not reproduce without permission.