Merriam-Webster Lexicon Summates Apple Fans For The Word "Sheeple" As With Social Media Swipes At Trump Administration
by
Alpha
/ Apr 30, 2017 11:52 AM EDT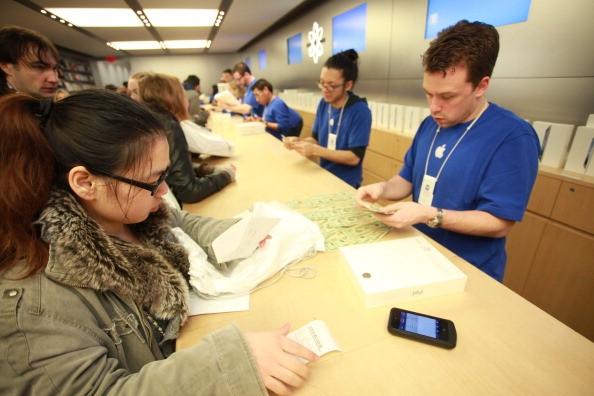 The most popular lexicon, Merriam-Webster has defined its new word "sheeple," as those who are "easily influenced." The emerging compendium of the English language has made headlines recently with social media swipes at the Trump administration. In Merriam-Webster's twitter account, it's subtweeted Education Secretary Betsy DeVos' use of the word "historical," confronted Kellyanne Conway's use of "alternative facts" and schooled Sean Spicer with an explanation tweet defining "claque," or a group of people paid to applaud a speaker.Now, the dictionary is aiming at Apple fans by using the word "sheeple."
Sheeple is an informal word for "people who are docile, compliant, or easily influenced," or "people likened to sheep." This is how Merriam-Webster explains it online. Gizmodo reported.
The word used in a sentence as an example: James Nichols, who ran the family farm here, stamped dollar bills with red ink in protest against currency and told his neighbors that they were "sheeple" for obeying authority like livestock. - Sara Rimer and James Bennet.
As there's nothing wrong in here, but here's how next sample sentence Merriam-Webster uses to describe "sheeple." Gizmodo reported.
"Apple's debuted a battery case for the juice-sucking iPhone-an ungainly lumpy case the sheeple will happily shell out $99 for." - Doug Criss
So here, you see Apple fans which mean, Apple customers are likened to sheeple. Truly, it's a dictionary that says, so evidently, it must be true. There's name attached to the quote: Doug Criss. The Register, that identified it, says that Criss used this particular line on CNN back in 2015. BGR reported.
Any ownership of Apple products can bring customers to the dictionary which means, Apple products sheeple Apple fans in several own ways. Being a fan of Apple's well-designed consumer devices is never a tough decision, but it's little grinding to know that even the dictionary thinks that buyers are easily influenced by Apple's stunning gadgets.
© 2019 Korea Portal, All rights reserved. Do not reproduce without permission.