DIA's Eunjin Comeback Showcase Rude Behavior Sparks "Sick" Controversy
by
Rose
/ Apr 21, 2017 04:07 AM EDT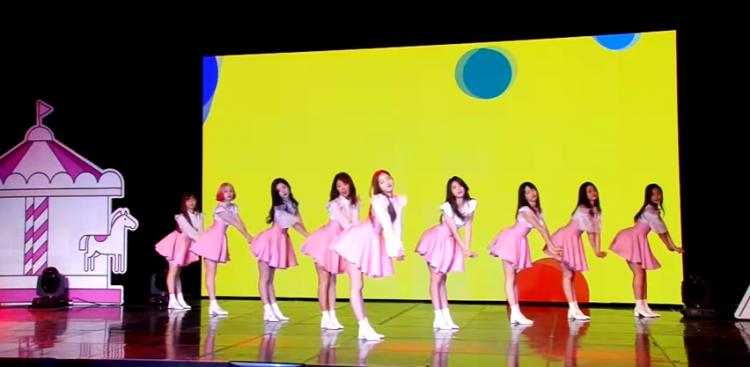 Last April 19, DIA finally came back for their comeback showcase. However, the joyous event created a stir when suddenly Eunjin was taken out of the scene. MBK Entertainment later revealed that she had difficulty breathing. Though others are thinking that it might not be the real reason but it's actually her rude behavior.
As stated by Allkpop, Eunjin's act on stage is really off during the DIA "Yolo" album launch. The netizen also noted it while watching on Naver "V LIVE." Some even said that the idol was "very uncooperative and ignorant" during that time.
One example of the Eunjin's rude behavior was when DIA was dancing. Then, she was the only member standing on the side doing nothing. The others were all happily smiling and dancing for their fans. Another incident was when a fellow member tried to link arm on her for a groupie. Eunjin remarkably took off her arms. Once again she didn't mind them at all.
Now, the web is buzzing that Eunjin's rude manners were the reason behind her "sickness." Before there was already rumors about DIA's group trouble, this might be the reality behind it. DIA fans are also commenting also about it today. They said that Eunjin's actions were really unacceptable if she might really be sick after all.
On the other hand, MBK Entertainment already spoken about the possible trouble inside DIA. It refuted the issue and focused instead on reporting about Eunjin's condition updates. Soompi particularly reports about it.
"Eunjin was discharged from the hospital in the early hours of the morning. Thankfully, she has had a full recovery and will join the other members of DIA on M!Countdown." This is the latest updates the label left for the fans about Eunjin last April 20.
MBK also noted that Eunjin had difficulty choreography because she took medicine beforehand. This caused the idol to experience breathing difficulties. Furthermore, DIA Huihyeon also apologized about the sudden incident.
© 2018 Korea Portal, All rights reserved. Do not reproduce without permission.