'Fairy Tail Dragon Cry' Feature Film Less Than A Month Away; Anime Series Entering Its Final Arc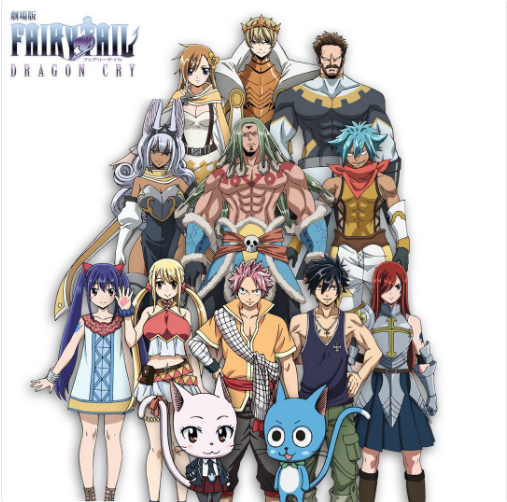 Less than a month from now and avid viewers of the anime adaptation of "Fairy Tail" will be in for a treat as Natsu and his guild of magically infused friends will be featured in a full-length film dubbed "Fairy Tail Dragon Cry." The upcoming featurette will set the guild on a mission to take back an ancient relic that is powerful enough to destroy the planet.
A teaser video was released showing how the powerful item looks like. The staff-like weapon - where the film got its title, is placed alongside the bones of defeated dragons of old. It is said that once it is put to use, "the light of the Dragons will descend upon the Earth" leading to its destruction.
Coincidentally, the Kingdom of Stella's secretary of state - Zash Caine ran off with the relic and brought it to their leader - King Animus that is voiced by Makoto Furukawa. The actor also gave voice to an equally well-known anime character - Saitama from "One Punch Man," Crunchyroll reported. Moreover, both Natsu and Lucy's voice actors namely Tetsuya Kakihara and Aya Hirano respectively will be sending out a special greeting to "Fairy Tail" faithfuls during the film's playdate.
"Fairy Tail Dragon Cry" is said to be the franchise's first step on its road towards its finale. Creator Hiro Mashima has announced early on that the series will be delving into its final arc and it would only take a matter of time before his masterpiece joins other well-known series such as "Naruto" whose anime adaptation ended this year and "Bleach" in 2012, according to Comicbook.
The sizzler reel for "Fairy Tail Dragon Cry" suggests that the anime film will be out on May 18. However, the movie poster says otherwise as it was stated that it will be out on May 6. Check out the teaser video of the upcoming film here:
© 2018 Korea Portal, All rights reserved. Do not reproduce without permission.