'Grey's Anatomy' Season 13, Episode 21 Is Not Airing On April 20: Maggie Discovers Meredith's Secret In 'Don't Stop Me Now' [Spoilers, New Airdate]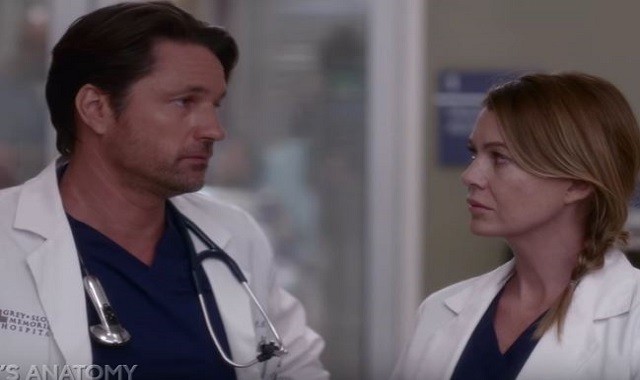 "Grey's Anatomy" Season 13 episode 21 is not airing on April 20. The ABC series resumes its run next week with the episode titled "Don't Stop Me Now." The upcoming episode focuses on Catherine and Richard's relationship problems. Meanwhile, viewers can expect to find out what happens after Meredith and Nathan return from their trip together wherein the doctors came closer than ever before.
[Spoiler alert! This article contains spoilers for "Grey's Anatomy" Season 13 episode 21 "Don't Stop Me Now." Read only if you want to learn more about it.]
The network recently released a description of "Grey's Anatomy" Season 13, Episode 21 on its official website. It hints at massive relationship drama in the upcoming segment. According to the press release, Bailey and April come together to help Richard and Catherine with their relationship problems. They try to fix things for the couple.
In the meantime, "Grey's Anatomy" Season 13, Episode 21 explores Eliza and Arizona's storyline. Eliza continues to pursue Arizona. Will Arizona agree to give Eliza a chance?
In addition, Maggie finally discovers Meredith and Nathan's secret. A promo video for "Grey's Anatomy" Season 13, Episode 21 shows shocked Maggie when she realises a possibility of a secret romance between her half-sister and her love interest.
In the clip, Nathan leads Meredith to a conference hall where they apparently talk about the plane disasters they dealt with in episode 20. Nathan and Meredith saved lives while the pilot struggled to make the landing in stormy conditions.
While speaking at the conference, Nathan puts his hand on Meredith's shoulder and Maggie's expression changes. She is clearly jealous to see her half-sister with the man she truly adores. The next shot shows Meredith tensed about Maggie discovering her well-guarded secret.
"She is gonna hate me," Meredith is heard saying in the trailer. Scroll down to watch "Grey's Anatomy" Season 13, Episode 21 trailer online.
In an interview with TV Line, "Grey's Anatomy" actress Kelly McCreary reveals what happens when her character discovers Meredith and Nathan. According to McCreary, Maggie is going to be hurt when she discovers the big secret.
"Absolutely. But [on the other hand, Meredith and Maggie have] gone through something so extreme together, and I think the whole Nathan question has been completely irrelevant this whole time," McCreary said. "So when it comes up again, I think it becomes about weighing, "Oh, there's this guy that I liked" against this life-and-death experience that they've shared."
"Grey's Anatomy" Season 13 episode 21 airs April 27 on ABC at 8:00 pm. Stay tuned, more spoilers and updates are expected soon.

Credit: YouTube.com/ Grey's Anatomy HD
© 2018 Korea Portal, All rights reserved. Do not reproduce without permission.