'Weight Lifting Fairy Kim Book Joo' Lee Sung Kyung & Nam Joo Hyuk Dating Scandal Finally Proven With An Instagram Post?
by
Rose
/ Apr 19, 2017 01:00 PM EDT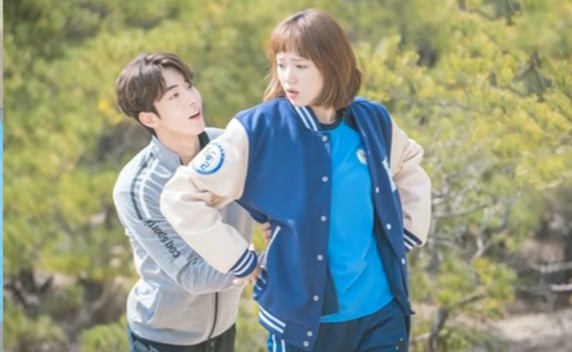 After the massive success of "Weight Lifting Fairy Kim Book Joo," the fans of Lee Sung Kyung and Nam Joo Hyuk can't help but comment on their sizzling chemistry. Everyone even urged the two to become a real-life couple. Now, it might be true after the actress now-deleted Instagram photo might have revealed the truth behind them.
According to Koreaboo, Lee Sung Kyung posted her experience of the last Coldplay Concert in Seoul. When she posted a photo on Instagram to prove her attendance, she captured a blurry man's body believed to be Nam Joo Hyuk.
Th speculation of the "Weight Lifting Fairy Kim Book Joo" stars' real relation has ignited when Lee Sung Kyung deleted the questionable photo. Although, she can't be faster than everyone. It is now circulating on the web along with Nam Joo Hyuk's other picture. It was apparently the evidence that it is really the actor.
At this moment, Lee Sung Kyung and Nam Joo Hyuk are still quiet about the new dating scandal. But their fans aren't done yet, they are still collecting evidence that the two indeed went together on the concert. Some tweets are relatively shared asking if anybody saw them on the event.
As stated by Pop Crush, there are already several incidents that could prove that Lee Sung Kyung and Nam Joo Hyuk aren't only close friends. These stemmed from the several events that they said something about each other.
On an interview several months ago, Lee Sung Kyung told everyone that she is really much comfortable with her male friends. Whereas the "Weight Lifting Fairy Kim Book Joo" Nam Joo Hyuk is also noted as one of the closest "male friends" to her. This has earned comments from their fans.
Lastly, Nam Joo Hyuk also had some incident where his closeness with Lee Sung Kyung showed to the public. This notably happened on his February fan event where the model-actress came to cheer him.
OMG!!! Fudge my feelssss!!!!
© 2018 Korea Portal, All rights reserved. Do not reproduce without permission.