Coldplay in Korea: British Rock Band Pays Tribute to Sewol Tragedy Victims in Seoul Concert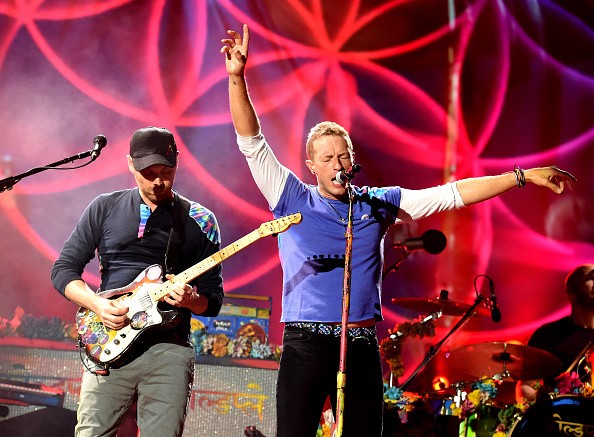 In their recently concluded Seoul concert, British rock group Coldplay acknowledged the Sewol ferry tragedy and paid tribute to its victims. The said incident is considered as South Korea's worst sea-related accident to date.
According to Korea Times, in the band's concert at Seoul's Jamsil Stadium on Sunday, Coldplay stopped in the midst of performing fan-favorite song "Yellow." Vocalist Chris Martin went on to say: "We want to stop this show right now because of this song and because of the Sewol ferry (tragedy)." A video posted by Hyundai Card on Facebook was shown to the audience. The company invited Coldplay to Seoul.
"We just want to take a moment with all of you to send some love and remembrance," Martin added. He asked the Korean crowd to stay silent and pay a 10-second tribute to those that passed away. Images of the yellow ribbon were displayed as Coldplay and the audience honored the victims.
Sewol, a ferry weighing 6,825 tons, capsized and went under Korea's southwest coast in April 2014. The tragedy left over 300 people either dead or missing, including many high school students from Ansan. As noted by Hyundai Card, almost 100,000 audience members were present at Coldplay's two-day concert in Seoul, achieving the record of being the single-largest music event by a foreign artist in South Korea's history.
According to Korea Herald, pop culture celebrities in South Korea also paid tribute to the victims as they released new songs, videos and images to remember the tragic experience. On Friday, Jo Kwan-woo unveiled his newest track, "Pray For You," as tribute to the victims and their families. The song shows remembrance for loved ones who have passed away. "I pray for you so that you will never hurt again and rest in peace," Jo stated in a message posted on the Facebook page of JCOM Entertainment.
Sweet Sorrow's Sung Jin-hwan also unveiled a live version of "We All Go Separate Ways Someday." "I wrote the song three years ago when the Sewol tragedy happened," Sung explained in an interview.
© 2018 Korea Portal, All rights reserved. Do not reproduce without permission.