South Korea Is 'Launching Effort' To Regularize Family Reunions Amid Conflict With North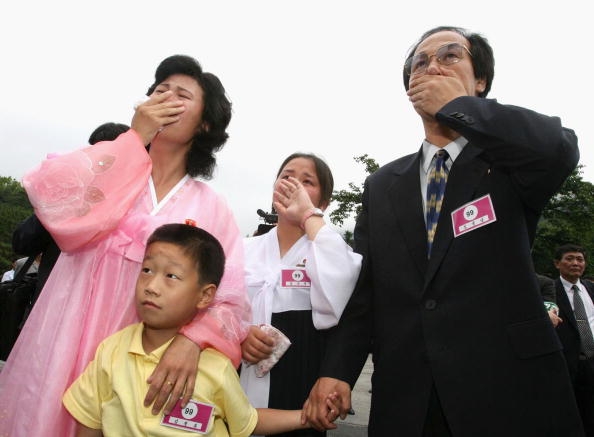 250 South Koreans returned home on Monday following the week-long family reunions that allowed hundreds of people from North and South Korea to meet again after six decades of separation due to the Korean War, according to VOA News.
South Korea is now reportedly "launching a multifaceted effort" to exchange letters and regularize the reunions amid conflict involving warning shots that were fired across the border last Saturday, according to the Asia Times.
South Korea's navy reportedly fired several shots at a North Korean patrol boat that crossed the maritime border over the weekend, eventually forcing it to retreat, a South Korean defense official in Seoul, who asked not to be named, said by telephone.
The North reportedly did not return fire or take other action, according to the official.
A North Korean spokesman reportedly stated that the South fired at its vessel, which was conducting "routine" operations.
"There will be only a war disaster, far from the improvement of the North-South relations, as long as the South Korean military warmongers go reckless," an unnamed spokesman said in comments carried by the official KCNA news agency.
The conflict was brought on towards the end of the family reunions.
Seoul has reportedly attempted to bring in more participants and reunions as time is limited for many separated families. North Korea has also reportedly showed interest in improving its relationship with the South.
"It is our consistent position that relations between the two Koreas be improved," Ri Chung Bok, head of the North Korean Red Cross, told reporters last week.
"We will discuss regularization of the reunions and exchanges of letters with South Korean counterparts."
About 10 percent of the 66,000 South Koreans on the wait list to see their family members in North Korea are over the age of 90, according to a South Korean Unification Ministry official.
"At a minimum, the families should be allowed to check up on the whereabouts of their relatives on a regular basis," said Kim Soo-am, a senior research fellow at Korea Institute for National Unification, South Korea's state-run research institute.
© 2023 Korea Portal, All rights reserved. Do not reproduce without permission.