BTS Rumors: BTS To Upgrade Name To BTX? Leaked Information Hint That Boys Are Split Over The Move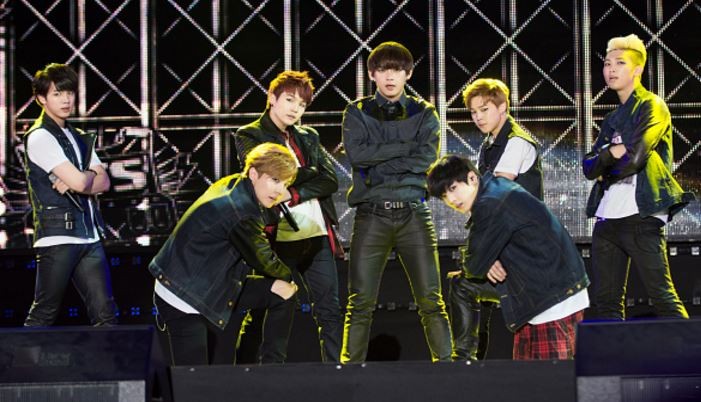 K-pop superstars BTS will soon level up and change their name to BTX in order to reach a wider global market. The new name is expected to reflect the next phase of the group's development.
Digital Music News has reported that it received a leak from an insider at Big Hit Entertainment that the group is planning to change its name to BTX. Group members were reportedly split about the rebranding but eventually ended with a 4-3 vote.
Rap Monster and Jimin were in favor of the change as well Suga and J-Hope. Rap Monster was in favor of the change of name as it gives the group an additional edge while Jimin thought that it makes the group sound tougher.
The label reportedly decided on the change of name because the X sounds more powerful than the S in BTS. If the name change pushes through, then the Bangtan Boys will soon be known as Bangtan Boyz. This is expected the give the group a much more hip hop sounding vibe.
Merchandise will also be upgraded after the conclusion of The Wings tour. The leaked statement of the label appealed to the BTS ARMY to support the name change and the growth of the K-pop group as they enters the next phase of its growth as artists.
BTS has been in the US for the past week for the series of sold out shows in New Jersey, Chicago and California. The final two shows in Anaheim has been met with much controversy after an anti-fan issued death threats against BTS member Jimin over social media, Soompi reported.
The death threat reportedly stemmed from rumors that Jimin hated his international fans. Security at the venue has been beefed up while members of BTS' ARMY have pledged to protect Jimin by staying vigilant. The announcement for the change in name will reportedly be made at the Anaheim event.
© 2022 Korea Portal, All rights reserved. Do not reproduce without permission.