'X-Men ResurrXion' Slated To Kick-Off This Spring; 80s & 90s Roster To Reunite In The Latest Initiative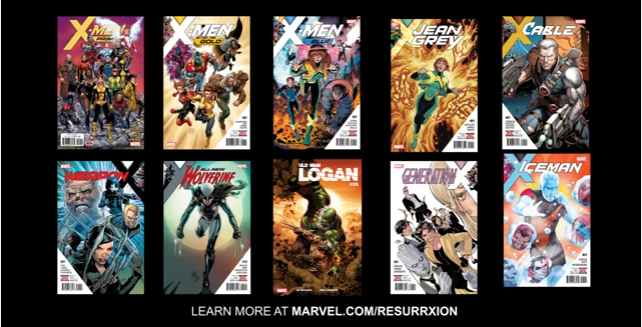 The iconic "X-Men" characters the fans have known will be reunited once again as the mutant-laden comic franchise will pressing hard on the restart button. The teams that were formed back in the 80s and 90s are bound to return in "X-Men ResurrXion."
The announcement came alongside a trailer featuring the upcoming titles under the new comic line. Nostalgia will definitely set in to whoever sees the sizzler trailer as the theme from the 90's animated series - "The Uncanny X-Men" was incorporated into the clip. The inbound "X-Men" books that were announced are the "X-Men Blue and Gold" teams, the "All-New Wolverine," "Old Man Logan," "Weapon X," "The Astonishing X-Men," Jean Grey," "Cable," "Iceman," and "Generation X," CBR has learned.
Come March 29, the first issue of "X-Men Prime" will be filling comic book stands that herald the beginning of "ResurrXion." "X-Men Gold" #1, on the other hand, is slated to come out on April 5. The former is said to "set the status quo" of famed the mutants before releasing the initiative's aforementioned titles.
Another title to look forward to is "The Astonishing X-Men" whose release date is quite way off as it is slated to be shelled out sometime in July. The said title will be made up of a different roster comprising of Psylocke, Mystique, Archangel, Gambit, Rogue, Fantomex, Bishop, and Logan, according to Nerdist.
Moreover, it may well seem that Marvel made sure that the mutant franchise's big names are included in the upcoming comic reboot and no filler characters will be included on it like the bone-producing Sarah (Marrow) and the mutant prostitute Stacy X. For the uninitiated, the original members of the "X-Men" that were first introduced by comic book legends Stan Lee and Jack Kirby in September 1963 consist of Cyclops, Marvel Girl, Iceman, Angel, Beast, and Professor X. Watch the recently released video for "X-Men ResurrXion" here:
© 2018 Korea Portal, All rights reserved. Do not reproduce without permission.